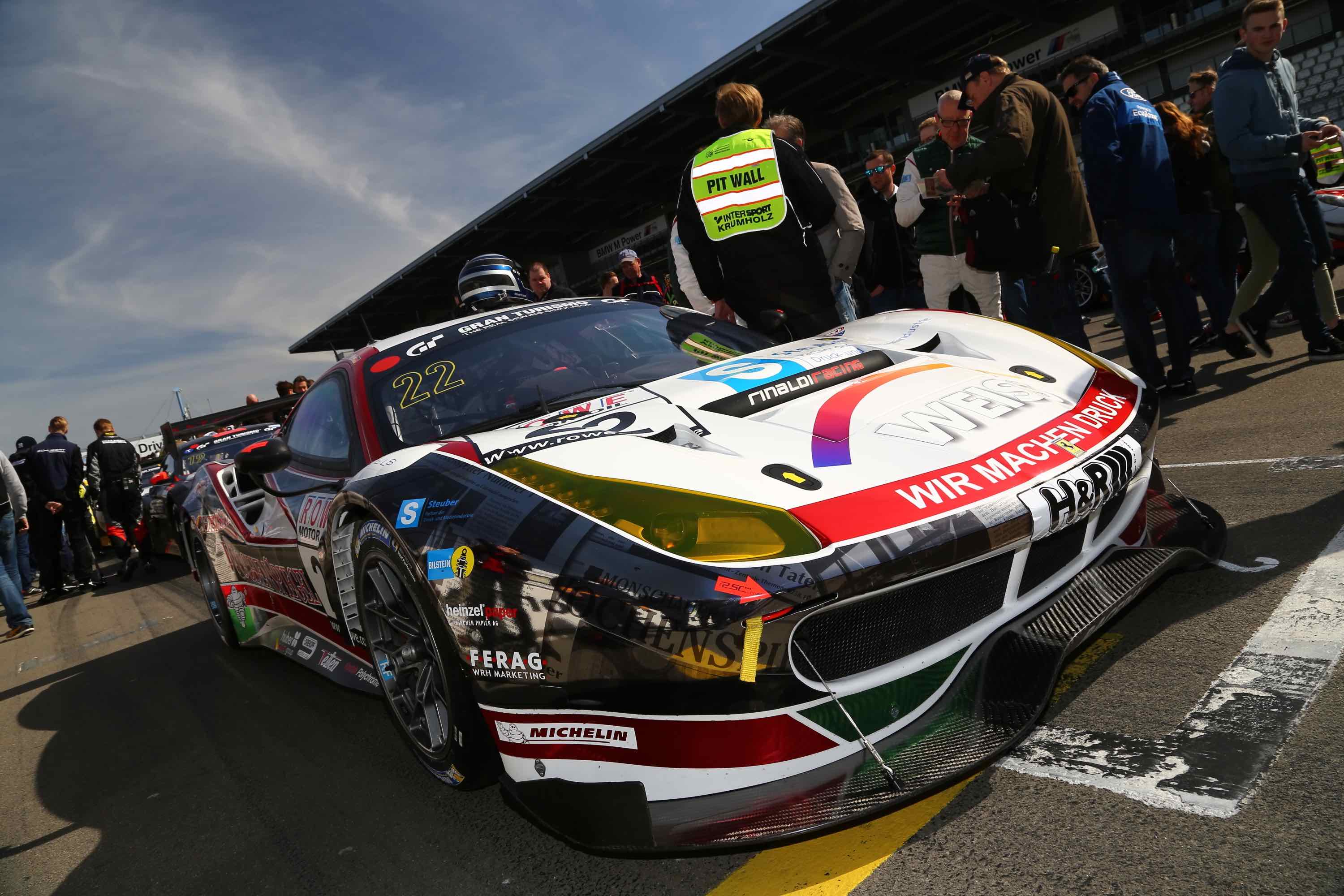 One week after the test drives on the Nürburgring the Wochenspiegel Team Monschau was ready for the first run of the VLN. The team supported by Rinaldi Racing started with a Ferrari 488 GT3 and a Porsche Cayman GT4.
On the Wochenspiegel-branded Ferrari with the starting number 22 Georg Weiss, Oliver Kainz and Jochen Krumbach shared the work behind the steering wheel. Rene Offermann and Dirk Riebensahm drove the Porsche Cayman with the starting number 169.
On Friday two tests took place on the Nürburgring/Nordschleife. The team used the opportunity to work on the car and to optimize the setup. Also, the drivers had the chance to get more driving practice on the racing cars.
On Saturday morning with bright sunshine, the qualifying started for more than 190 entrants. At the end, the Ferrari reached a good 23rd place in the strong GT3 field. The Porsche Cayman achieved the fifth position in the SP10 class.
The first VLN race started on time at noon. Oliver Kainz took over the start and could keep his position. In his second stint half, he became faster and could improve his lap times. At the pit stop, Georg Weiss took over the Ferrari from Oliver Kainz and get back on track on position 24. But on the first lap of Georg Weiss the disaster happened. In the part of Pflanzgarten 2 double yellow was waived and Weiss was braking. Unfortunately, the BMW did not notice that and rushed into the Ferrari. The Ferrari hit the barrier and had to quit the race heavily damaged.
Also, the Porsche Cayman with the starting driver Dirk Riebensahm had a good start and after a few laps he took over the fourth position in the class. The first pit stop went well and Riebensahm could attack his second stint. But after a few laps, the team get the radio message that there was a tyre damage. An opponent hit the rim of the car and Riebensahm had to get back to the pits to change the tyre. After two hours driving time Riebensahm passed over the Porsche Cayman to Rene Offermann. He crossed the start-finish-line on fourth position in class.
Michele Rinaldi: "Of course, we did not imagine the first VLN race like that. It is a pity that this accident happened with the Ferrari. The drivers did a good job on the car and felt fine. Now we have to rebuild the Ferrari and in two weeks the second run oft he VLN will take place. The Cayman come through very well except for the tyre damage. Both drivers adapted themselves on the Porsche and can improve in the next races."
This weekend Rinaldi Racing will go to the first race of the Blancpain Sprint Series in Misano, Italy. There the team will start with a Ferrari 488 GT3 with Alexander Mattschull and Daniel Keilwitz.