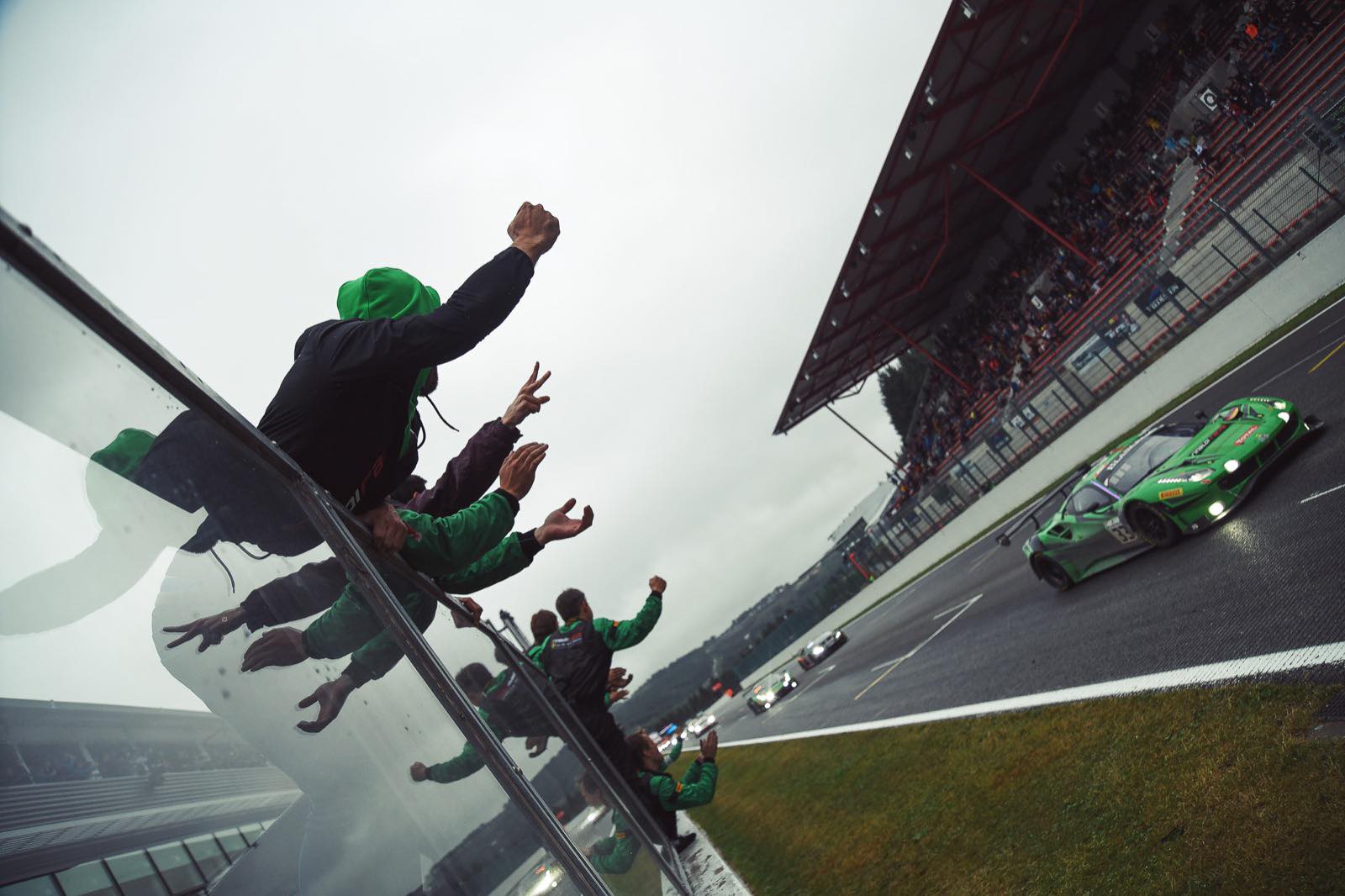 This year Rinaldi Racing had a lot in mind at the 24h of Spa-Francorchamps. In the Ardennes, the team from Mendig started with three Ferrari 488 GT3 at the highlight of the Blancpain GT Series.
At the start with the start number 333 Rinat Salikhov, Denis Bulatov, David Perel, and Indy Dontje in the silver class. The two sister cars started in the Am class. Christian Hook, Alexander Mattschull, Manuel Lauck, and Hendrik Still shared the steering wheel work on starting number 33. Pierre Ehret, Martin Berry, Jose Balbiani, and Rory Penttinen took turns on starting number 488.
The race was to be one of the most turbulent.
The race had to be started under the safety car due to heavy rain. After four laps the race was released and all three Rinaldi Racing Ferraris had a good start. Unfortunately, the race was slowed down again and again by yellow flags and longer Safety Car phases. But already at the first pit stops, you could change to slick tires, because the track became drier and drier.
Unfortunately, the Ferrari 488 GT3 with start number 333 had to give up the race after eight and a half hours due to a technical problem.
Between the ninth and twelfth hours, several Full Course Yellows were called, all due to the increasing rain and a few cars slipping off the track.
The rain returned later in the evening and became stronger during the night. In the early hours of the morning, the situation had worsened so much that a red flag was required for safety reasons. This was shown for the first time at 06.00, with the peloton following the safety car into the pits to wait for better conditions.
The rain subsided during the morning and the cars rolled out of the pit lane at 11.15. After two laps behind the safety car they started again. From then on there were only five and a half hours left of the race.
Until the end of the race, the lead in the Am class was fiercely contested. Only in the last hour, the winner decided. #488 finished the race on a good fifth place in the Am class.
The Rinaldi Racing Ferrari #33 clinched class victory in the Am class and secured Rinaldi Racing another class victory at the 24 Hours of Spa. After Rinaldi had triumphed in the ProAm last year, the team was able to master another challenge this year.