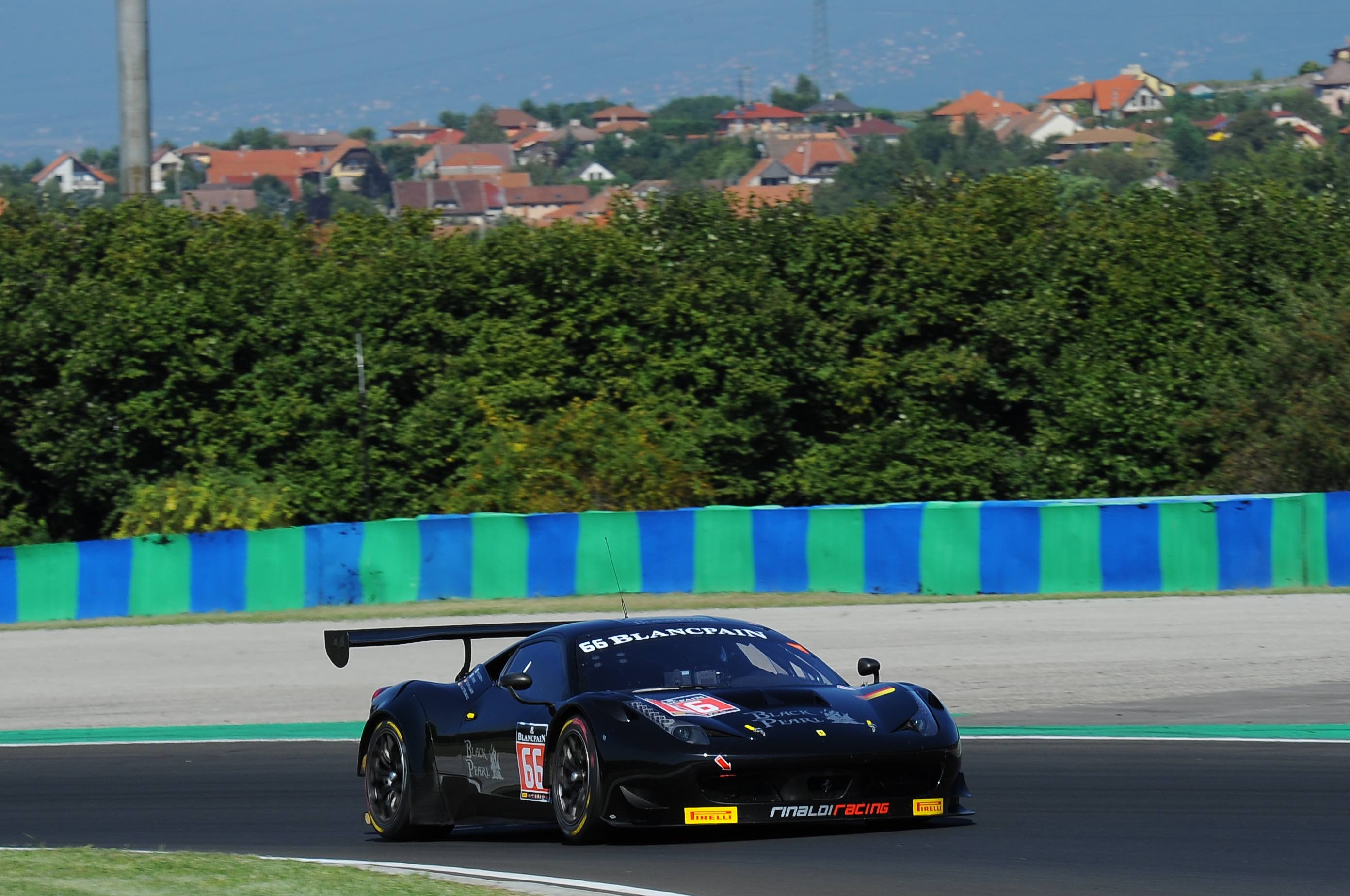 Last week the fourth run of the Blancpain Sprint Series took place as part of the Truck Grand Prix at the Hungaroring. The Rinaldi Racing team was in Budapest with one car in the AM class: the black Ferrari 458 with the starting number 66. The work behind the steering wheel of the black Ferrari was shared by Steve Parrow and Christian Hook.
Already on Thursday afternoon, the GT3 cars set out together with the trucks for the parade at the Heroe Square. There the black Ferrari started from pole position and led the whole GT3 field to the city center of Budapest. In bright sunlight, the visitors enjoyed the GT3 sports cars and the autograph cards from the drivers.
On Friday both drivers had time to get used to the track during the free practices. With temperatures over 30 degrees, both drivers improved constantly their lap times and get a good feeling for the track.
On Saturday noon the qualifying started in warm conditions. Unfortunately, the qualifying went under the expectations. At the end, Parrow and Hook reached the third position in the AM class on the starting grid for the qualifying race.
Already in the afternoon, Christian Hook was the starting driver behind the steering wheel of the Ferrari 458 in the qualifying race. Hook got a good start and could keep out of the collisions in front of him. So he could move forward some positions. Then the catch-up race began for the second position in the AM class. After a good pit stop and constant lap times the #66 could reach the second position in the last lap.
On Sunday Steve Parrow started the main race from the 15th row on the grid. Already at the start Parrow could snatch the first place in the AM class and kept this position until the driver change. In spite of a very good pit stop, Hook dropped back to the third place in the AM class. The other drivers were too fast despite to Bronze categorization and drove the lap times of the leaders. However, both drivers were happy with the podium and the champagne for the third position.
The next race of the Blancpain GT Series will take place from the 17th to the 18th of September at the Nürburgring. The Endurance race of three hours will again be a home race for Rinaldi Racing. The team will start with two cars: the Ferrari 458 #66 with Steve Parrow, Alexander Mattschull and Daniel Keilwitz and the Ferrari 488 #333 with Pierre Ehret and Rinat Salikhov.