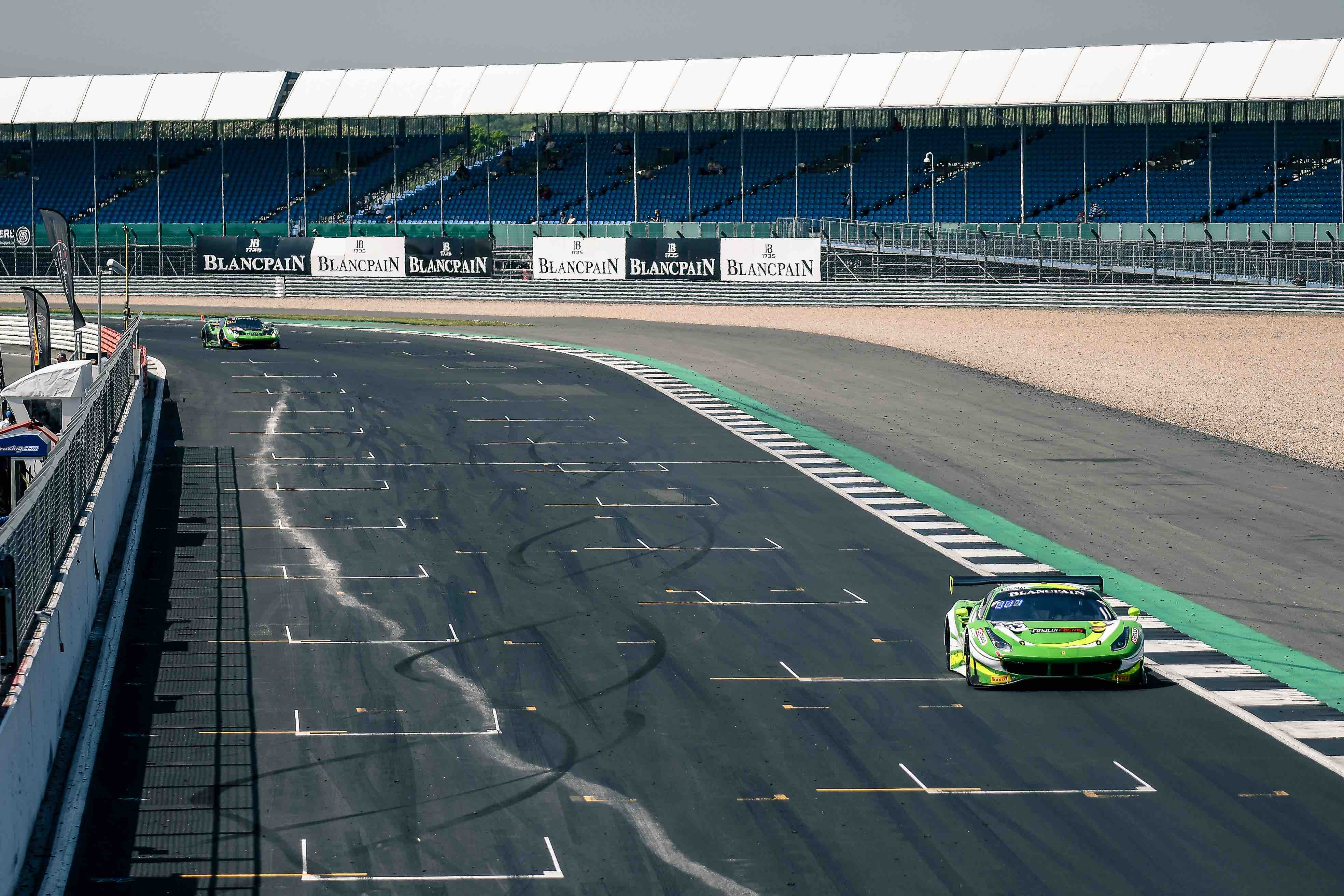 Last weekend, Rinaldi Racing participated in the second run of the Blancpain Endurance Series in Silverstone. Also, this time the #333 started in the ProAm class with Alexander Mattschull, Rinat Salikhov, and Daniel Keilwitz. On the sister car #488 again in Am class Pierre Ehret, Rory Penttinen, and Rick Yoon.
On Sunday morning, the qualifying started with beautiful sunny weather. On the Ferrari 488 GT3 with the starting number 333, all drivers convinced with a strong performance. All three drivers had so good lap times during their qualifying sessions that at the end, they reached the pole position in the ProAm class. The trio on the #488 achieved the fourth position in the Am class during the qualifying. A quite good result considering that it was the first time in Silverstone for Rory Penttinen and Rick Yoon.
In the afternoon, the three hours race started. Rinat Salikhov took over the start in the #333, but in the first lap, he had a collision with another car that led to a spin. Also, an ensuing collision had as consequence that Rinat Salikhov had to come into the pits after a few laps. Because of these incidents, a conduit broke and the mechanics tried to solve the problem as quick as they could. After half an hour, Rinat Salikhov could get back on track as tenth in the ProAm class. However, nobody in the team was not put off, important points were still within reach.
Things were going much better with the #488. Rory Penttinen took over the lead in the Am class straight away at the start. With the car on the second position in the Am class, he was running shoulder to shoulder. At the end, he won the battle. As leader, he came into the pits and handed over to Rick Yoon.
At the first planned pit stop of the #333, Rinat Salikhov passed over to Alexander Mattschull. He convinced with good lap times and moved forward to the ninth position in the ProAm class. Rick Yoon struggled a little bit with the track, but showed a good performance. One hour before the end of the race, on position four he drove to the box for his next stop. Pierre Ehret was now behind the steering wheel of the Ferrari 488 GT3.
Half an hour before the end, Daniel Keilwitz switched to the car. With top lap times, he was able to get the eighth position in the ProAm class and gained important points for the championship. Until the end, Pierre Ehret tried to catch the car on the third position in the Am class. However, he crossed the finish line as fourth in class.
Michele Rinaldi: " Not the result we were hoping for. However, I am satisfied with the performance of the drivers. Also, the mechanics kept cool as the #333 was coming to the pits unscheduled. Now, we are heading back home to prepare for the six hours race in Paul Ricard, which will already take place next week."