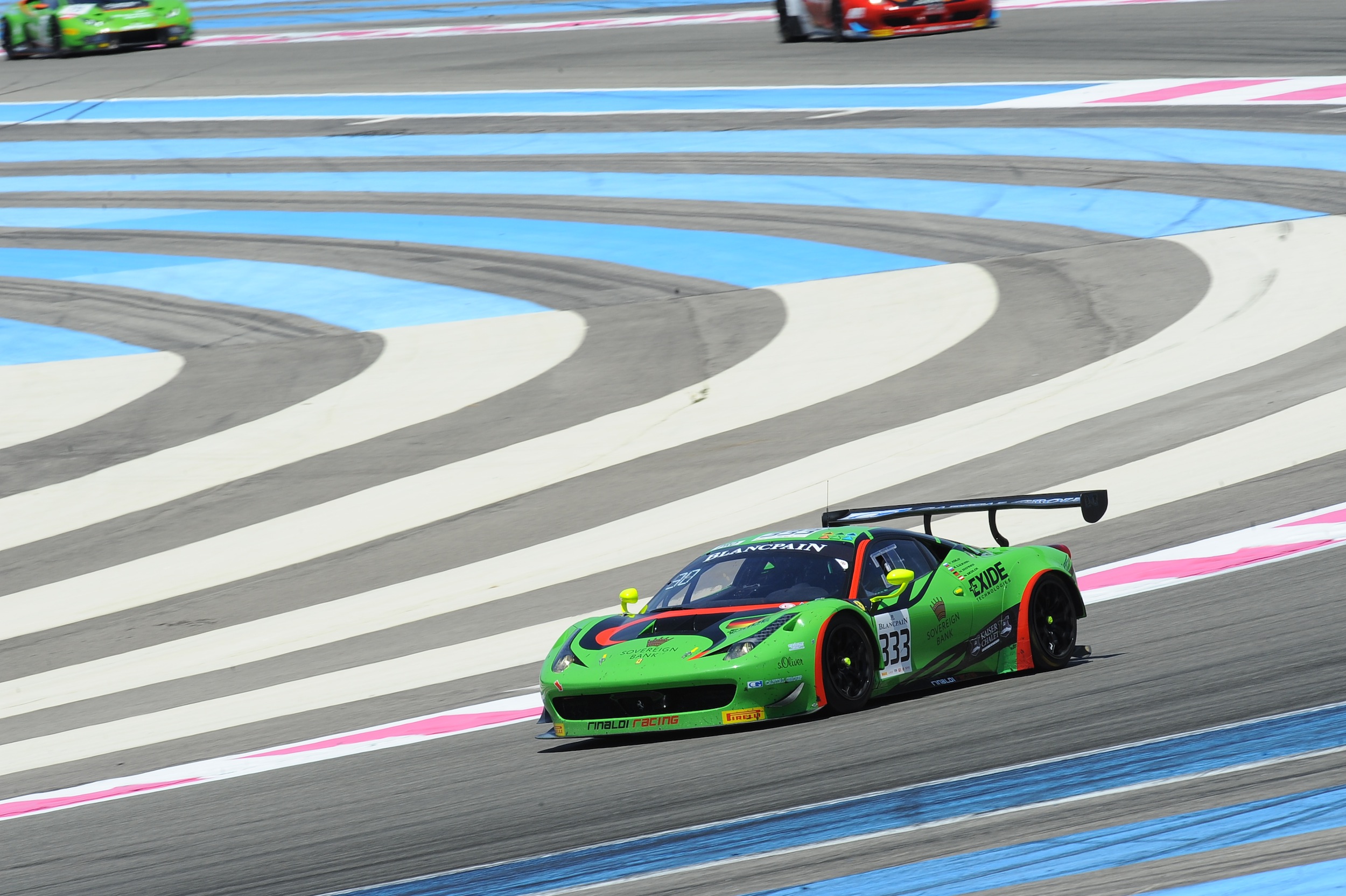 After a strong qualifying, the third round of the Blancpain Endurance Series season on the Paul Ricard Circuit, came to an unhappy end for the Rinaldi Racing team. The three Ferrari drivers Rinat Salikhov, Marco Seefried and Norbert Siedler were unable to reach the finish after a collision in the start phase and the hunt for valuable championship points was hamstringed. Norbert Siedler had previously again made a very good impression with strong lap times during the qualifying session and secured himself a start position in the second row on the grid. Steve Parrow, Pierre Kaffer and Dominik Schwager in a second Ferrari 458 Italia, saw the chequered flag with a good 14th place in their class.
"It feels very bitter when you have to retire so early in a six hour race", reported a disappointed Norbert Siedler. The Austrian made a good start and asserted himself in the top group of the jam-packed field of 60 cars. Sadly, the 32-year-old experienced driver didn't get far. "It was a very tight fit in the first bends and the initial phase was quite turbulent. I defended myself well till an opponent attacked me from behind, hit me and I slid out of the curve. This meant me colliding with another contestant and the race was over. I didn't stand a chance. And that was it", Siedler explained. "These sort of mistakes shouldn't really happen in a 1000-kilometre race. But now we have to move on and go into the next race even stronger."
The likeable team from Mendig, still had all reason to be pleased. During qualifying, the three Ferrari drivers were able to transform their strong performance this season into good lap times. Norbert Siedler recorded the best time and qualified Rinaldi Racing with third place in the second row on the grid. The sister car with start number 66 started from position 22. Pilots Steve Parrow, Pierre Kaffer and Dominik Schwager drove a flawless race and after six hours, crossed the finish line in 22nd place in their PRO-CUP class.
"At first, we felt very positive about our start into the weekend. Norbert, Marco and Rinat are getting stronger and were aiming for the podium", said team boss Michele Rinaldi. "Unfortunately we only got a few meters into the race. Norbert didn't stand a chance of avoiding the opponent's error and so we had to give up well below our true potential. But we won't get discouraged and will be on the attack again in Moscow. However, we were all the more pleased about our second car with Steve, Pierre and Dominik. 22nd place is a great result."
The next highlight in the Blancpain Sprint Series awaits Rinaldi Racing next month in Moscow. A summary of the third round of the Blancpain Endurance Series on the Paul Ricard Circuit, can be seen on Tuesday 23rd June at 10:30 pm on Eurosport.