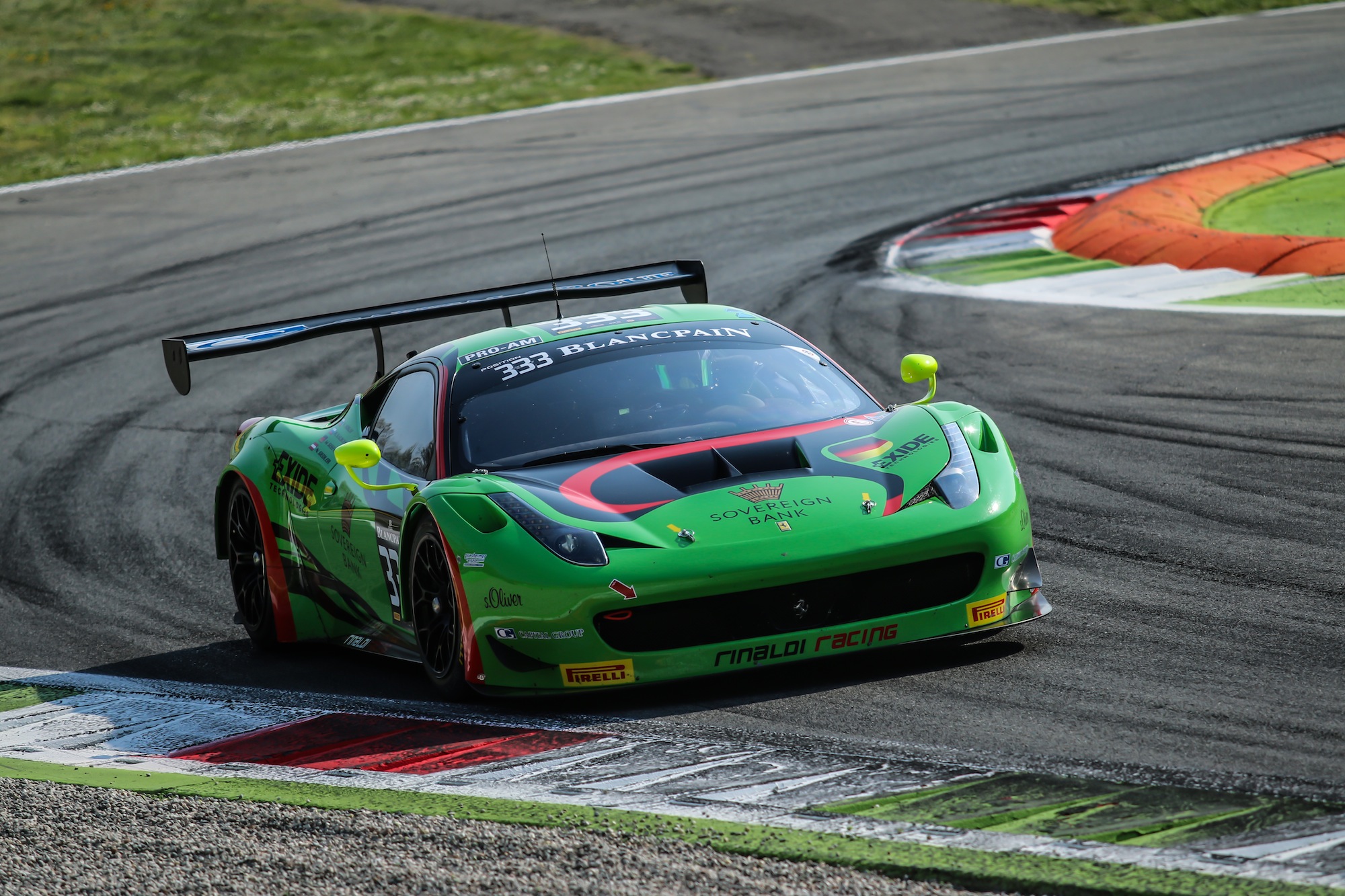 Joy knew no bounds for the Rinaldi Racing Team at the start of the Blancpain Endurance Series in Monza in Italy. Rinat Salikhov and Norbert Siedler secured the overall victory in a Ferrari 458 Italia. The Russian/Austrian duo won against a good 60 teams. The team from Mendig had already caused a sensation during qualifying, when they claimed first and second positions.
"This result is fantastic", said the happy team boss Michele Rinaldi after the amazing success. "Norbert and Rinat have done a magnificent performance and the whole team really deserves this victory." Right from the word go, the Russian Rinat Salikhov could hold his ground as leader of a strong field of 60 cars. "I don't know what to say. I never dreamt we could be fighting for the lead – and now this triumph. Many thanks go to Norbert Siedler for such a great job", reported the overjoyed Salikhov during his interview on the winner's podium. The Rinaldi pilots had originally crossed the finishing line in second position, but because a competitor's car was afterwards excluded by the stewards, Norbert Siedler and Rinat Salikhov were awarded the victory.
A huge surprise had already occurred during qualification. The first row of the starting grid was firmly in the hands of Rinaldi Racing. Siedler and Salikhov qualified for grid position one with best lap times. "At the beginning of the Nogaro Blancpain Sprint Series, we had a difficult weekend, but Monza suits our car much better. It was a wonderful feeling starting at pole position", concluded Norbert Siedler. Pierre Kaffer and Steve Parrow crowned the team's firstclass performance. With their fastest qualifying time, they were able to complete the front row of the grid. The sister car with GT drivers Parrow and Kaffer finished the thrilling race in the royal park of Monza in 22nd overall position.
After a short break, the Rinaldi Racing Team participates in Brands Hatch from 9th till 10th May. The second Blancpain Sprint Series event takes place on this time-honoured circuit in the south of England.