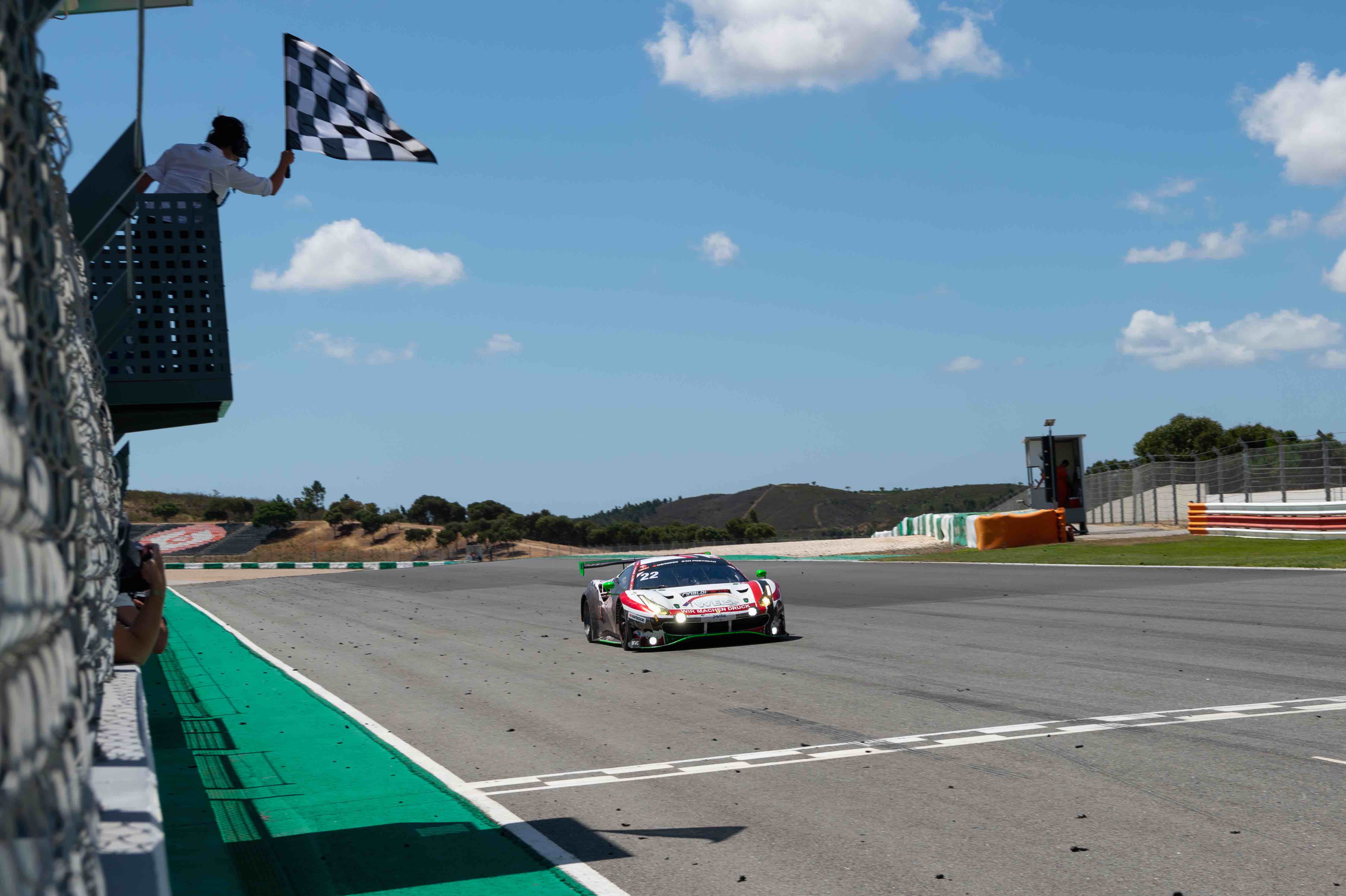 Only two weeks after the podium success in the SP9 Pro-Am class in the ADAC TOTAL 24h race at the Nürburgring, WTM Racing has again taken a podium place in a 24h race, this time even in the overall classification. Georg Weiss, Leonard Weiss, Jochen Krumbach, and David Perel finished third at the 24 Hours of Portimao.
The Ferrari 488 GT3 "Guido", by Rinaldi Racing, started from eighth on the grid with no problems and finished twice around the clock over the distance. The team around Georg Weiss was looking for speed the whole weekend without finding him. "We're going home with some homework," says team boss Georg Weiss.
What was lacking in pace was compensated by the long-distance experienced team with a perfect strategy and good driving performance. In a thrilling final, Leonard Weiss managed to withstand the pressure from Porsche works driver Klaus Bachler, who contested the podium in the Herberth-Porsche WTM Racing. Since David Perel ran the risk of exceeding his maximum permitted driving time in the end, Leonard Weiss had to bring the Ferrari to the finish. He was able to keep Bachler a good minute away.
Quotes after the race
Georg Weiss (driver Ferrari 488 GT3 #22): "A successful event. The whole team did an excellent job and we felt absolutely comfortable again in the 24h Series. What Creventic is doing here is really great. We're happy about the podium finish, but we have to see why we don't have the pace of the teams right at the front. I don't think it's the drivers. So we either have to improve the car or make more consistent use of the regulations. We'll take a look at it."
Leonard Weiss (driver Ferrari 488 GT3 #22): "A great weekend for me and the team. I'm overjoyed that we were able to finish third together. A great job from everyone. I had difficulties with the track at the beginning of the weekend, but I got along really well in the race".
Jochen Krumbach (driver Ferrari 488 GT3 #22): "I'm satisfied, but after almost eight hours of driving I'm pretty tired and exhausted. Double stints at Portimao are really exhausting. We didn't quite have the necessary speed, but thanks to an almost flawless drive, good strategy and an outstanding performance from Rinaldi Racing, we were able to move forward during the race."
David Perel (driver Ferrari 488 GT3 #22): "Portimao was a tough place for us. We lacked some pace, but we had a perfect strategy. My teammates stayed out of everything excellently. After our pace in qualifying a podium finish feels like a victory. Thanks to everyone at WTM Racing for the great experience."