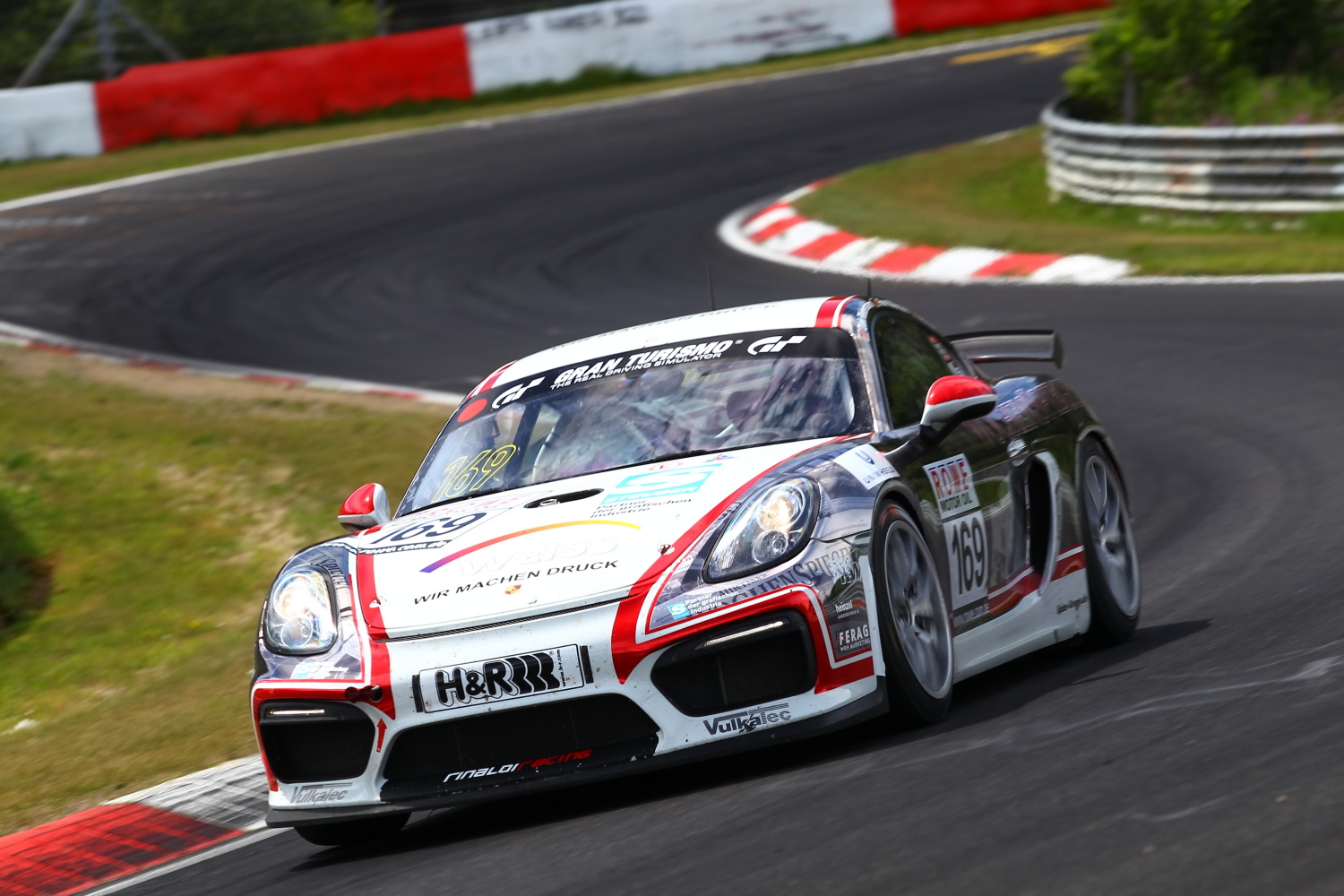 Last weekend, the fourth run of the VLN took place at the Nürburgring/Nordschleife. The Wochenspiegel Team Monschau, who is supported by Rinaldi Racing, participated in with the Ferrari 488 GT3 and the Porsche Cayman GT4. On the Ferrari, with the starting number 22 Georg Weiss, Oliver Kainz, and Jochen Krumbach shared the work behind the steering wheel. Dirk Riebensahm and Rene Offermann drove the Porsche with the starting number 169.
On Saturday morning the qualifying was underway with 147 cars. The Ferrari qualified on a good fifth position. The gap to the lead was just 1.6 seconds. Both drivers on the Porsche could improve their lap times compared to the last VLN runs. At then end, they reached the fourth position in the SP10 class.
Oliver Kainz took over the start in the Italian racing car. On the Porsche, Dirk Riebensahm was the starting driver for the race. Kainz had a good start and could keep up with the speed of the leaders. At the beginning of the drive-up to the Nordschleife, an accident occurred just in front of Kainz. He had to brake and hit the other car in front of him and slipped into the gravel. Unfortunately, he could not get out without any help and had to wait for the track support. But the Ferrari was to badly damaged to continue the race.
The Porsche could finish the race without any complications. The pit stops with driver changes went faultless and the lap times were constant. At the end, Dirk Riebensahm and Rene Offermann were happy about the third place in class.
Michele Rinaldi: "We are doing well with both cars. Of course, it is a pity that the Ferrari had to quit after just two laps. The drivers in the Porsche did a good job. They improve their performance run by run. Now, we will have a little VLN break, because the Ferrari will participate in the 24h Portimao. The Porsche will take part in the fifth VLN run."