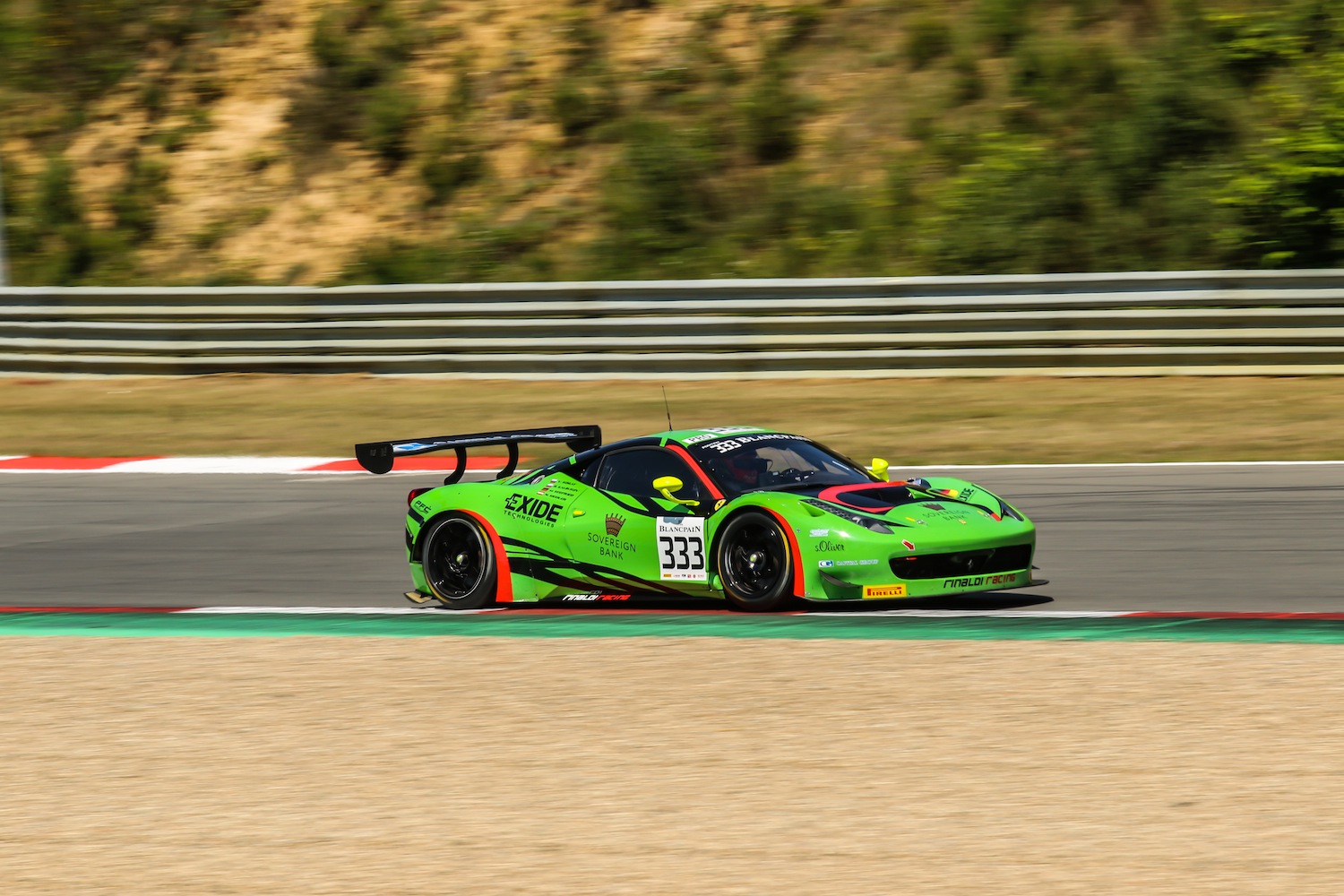 At the third racing weekend of the Blancpain Sprint Series in Zolder, Belgium, Rinaldi Racing shone with a superb performance once again. Norbert Siedler and Marco Seefried managed to drive the best time in the practice session on Friday and with second place in the qualifying race, the team rejoiced about another podium success. However, in the main race on Sunday a collision at the start destroyed all hopes for another top result. Despite the misfortune the team from Germany looks back on the weekend with a positive feeling.
"Until the main race on Sunday everything went great for us this weekend", Norbert Siedler looks back. "On Friday we were quickest in the practice session. On Saturday we managed to claim a podium, finishing second in the qualifying race. With that the basis for a good result in the main race was nearly perfect. However, Marco Seefried experienced some bad luck at the start of the race." Only after a few meters Seefried's Ferrari 458 Italia was hit in the back by one of the opponents. The German spun and ended up in the gravel trap. "That was a bitter experience", explained a disappointed Marco Seefried. "We had a really good pace and couldn't even drive a single lap. After the incident we had no chance to take up the race again."
Rinaldi Racing was able to impress the opponents with a strong performance the whole weekend. In the two practice sessions on Friday, Marco Seefried and Norbert Siedler convinced with positions one and two. In the qualifying race on Saturday the two sportscar professionals converted their strong performance into a podium finish. Not at least because of a sovereign team-performance at the pit stop the driver duo improved to second rank, claiming a position in the front row of the starting grid for the main race. "It was our maiden podium in the Blancpain Sprint Series. What a great result", Marco Seefried was pleased about the success.
"The team and the drivers work together perfectly", Michele Rinaldi draws a balance and explains. "Marco and Norbert get along with the Ferrari 458 Italia truly well and manage to get the best out of the car even on circuits which doesn't cope with it. The team and I are really happy with the way everything has developed so far. In Belgium we could show again how strong we are performing. Many thanks to my whole crew."
The team Rinaldi Racing has already an eye on the next round of the Blancpain Endurance Series. From June, 19th to 20th the popular sportscar series travels to the Circuit Paul Ricard near the French city Le Castellet. Team manager Michele Rinaldi wants to stay on the road of success also in the third round of the endurance series. "We try to take the positive momentum from Belgium to France, to fight at the top another time."