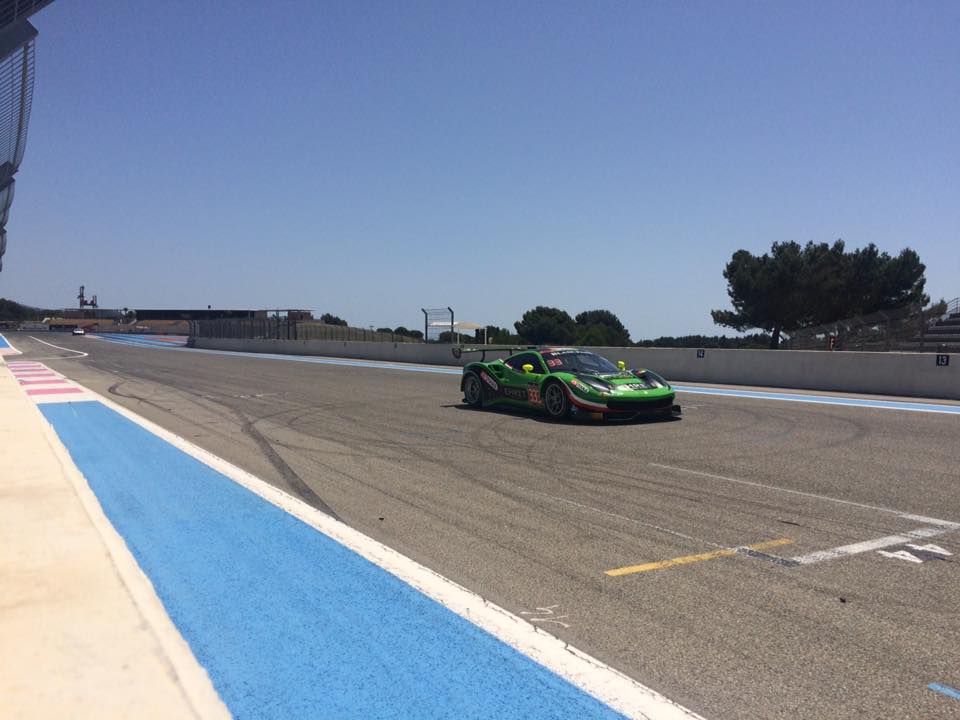 Last week the third run of the Blancpain Endurance Series took place at the Circuit Paul Ricard. The 1.000 km race in France is one of the highlights of the calendar; the cars start at 18.00 o'clock in the daylight and finish the run as night race. Unfortunately the race did not went as desired for Rinaldi Racing.
From the beginning of the race event there were 30 degrees over the whole day. A strain for man and machine. On Friday the drivers could adapt themselves to the temperatures and the track during the three practice sessions. In the green Ferrari 488 with the starting number 333 Pierre Ehret and Rinat Salikhov shared the work behind the steering wheel in the AM class. In the sister car the Ferrari 458 with the starting number 66 Steve Parrow, Alexander Mattschull and Dominik Schwager were starting in the PRO-AM class.
On Saturday morning during the qualifying the Ferrari with the starting number 333 reached the fifth position in the AM class and established a solid starting position for the race. At the end of the third qualifying Dominik Schwager in car number 66 could move the Ferrari 458 forwards, but with a starting field of 57 cars it is very difficult to find a clear lap. Therefor it was just enough for the 13th position in the PRO-AM class for the Black Pearl crew.
On time at 18.00 o'clock the six hours race started in Paul Ricard with very warm conditions. Just at the start of the formation lap the black Ferrari #66 stopped due to a starter problem, but could start on his own after a few minutes. Unfortunately he has to drop himself until the last start position. At the start of the race just at turn two the next disaster occurred: a driver crashed into the #333 with Rinat Salikhov behind the wheel, who had to watch involuntary as his car hit the sister car with Dominik Schwager. The result of this collision was a tire puncture for the car #66 who has to trudge to the pits. Sadly the race was over for the car #333. Now the catch-up race began for Steve Parrow, Alexander Mattschull and Dominik Schwager. Lap for lap they could move forward until the tenth position in the PRO-AM class with stable lap times and good pit stops. 45 minutes before the end of the race the team had to retire the Ferrari due to a technical issue.
"Of course for the whole Rinaldi Racing team it is a very sad situation. We came here to Paul Ricard as the leader in the AM class in the Blancpain Endurance Series and hoped to catch some points. At the end we also had a failure with our Ferrari 458. However the drivers and the whole team did a great job!" said team boss Michele Rinaldi.
Immediately this week Rinaldi Racing will have the next race; the Blancpain Sprint Series will be guest together with the Truck Grand Prix at the Nürburgring from the 1st to the 3rd of July. This event is a home race for the team, whose workshop is located just at 30 km from the circuit. "The upcoming weekend is very important for us." so Michele Rinaldi. "We will make any effort to reach a good result in front of our locals. A lot of partners and friends will be on site to keep their fingers crossed."