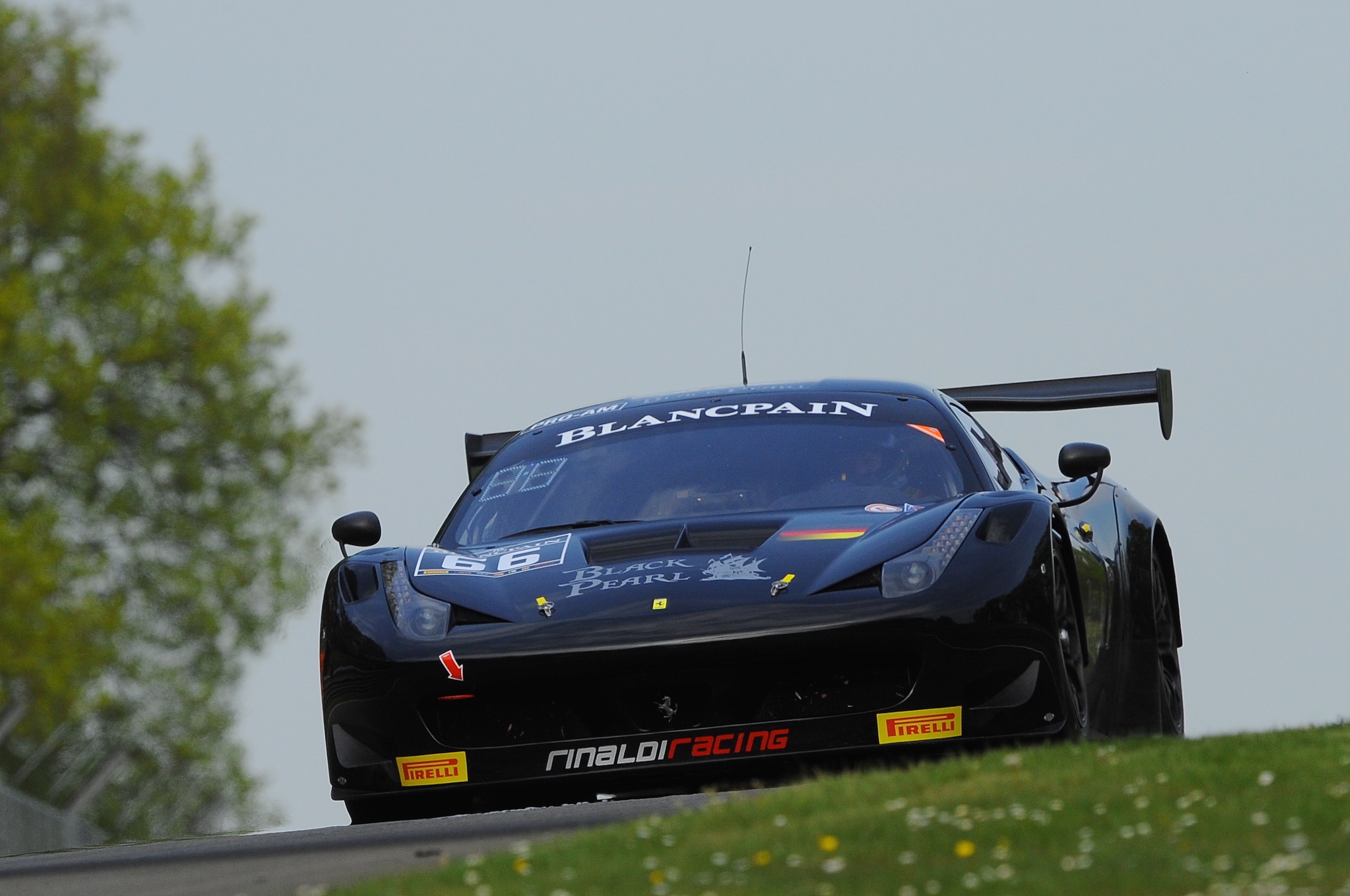 The first race weekend with the Ferrari 488 GT3 in Brands Hatch turned out to be a difficult one for Marco Seefried and Norbert Siedler. After a 14th in the qualifying race, the duo had to bury all hopes for a Top Ten position in the main race, because of tire damage.
After a long wait, the time had finally come: Rinaldi Racing started for the first time with the newly developed Ferrari 488 GT3 in the Blancpain GT Series Sprint Cup. As there was no opportunity for a preliminary test with the new car, the team from Mendig had an obviously tough job. "Handling the 488 is completely different to the 458 Italia GT3. We also have a lot to learn about improving the fine tuning", said Norbert Siedler.
Although Siedler and Seefried drove the best time of all Ferraris and after a 17th position in qualifying, the pair couldn't make much progress in the first race. "We didn't have enough power. Even if an opponent made a mistake, we couldn't overtake", recalls Seefried. But the Rinaldi pilot is convinced that the new Ferrari 488 GT3 has potential: "Above all, the car produces much more downforce than its predecessor", he explained. After a 14th in the qualifying race, the chase for a good result in the main race ended prematurely with tire damage.
Steve Parrow and Daniel Keilwitz can however leave Brands Hatch with two podium finishes. Thanks to a flawless performance, the duo driving the Black Pearl Ferrari fought in the qualifying and main races for top positions in the PRO-AM Cup and secured third place in both.
"We look back on the weekend with a tearful and a joyful eye", says team manager Michele Rinaldi. "Of course we were hoping for a different debut with the Ferrari 488 GT3, but the potential is there, we've just got to exploit it. I'm very pleased for Daniel Keilwitz and Steve Parrow, who finished twice on the podium in their class. Many thanks go to the entire crew, who did a great job. We didn't have any technical problems, it's just that the speed simply wasn't there."
There's no time for a break, Rinaldi Racing continues its "English week" with the next race of the Blancpain GT Series in Silverstone. The Endurance Cup is scheduled for 14th – 15th May on the Grand Prix Circuit north of London.