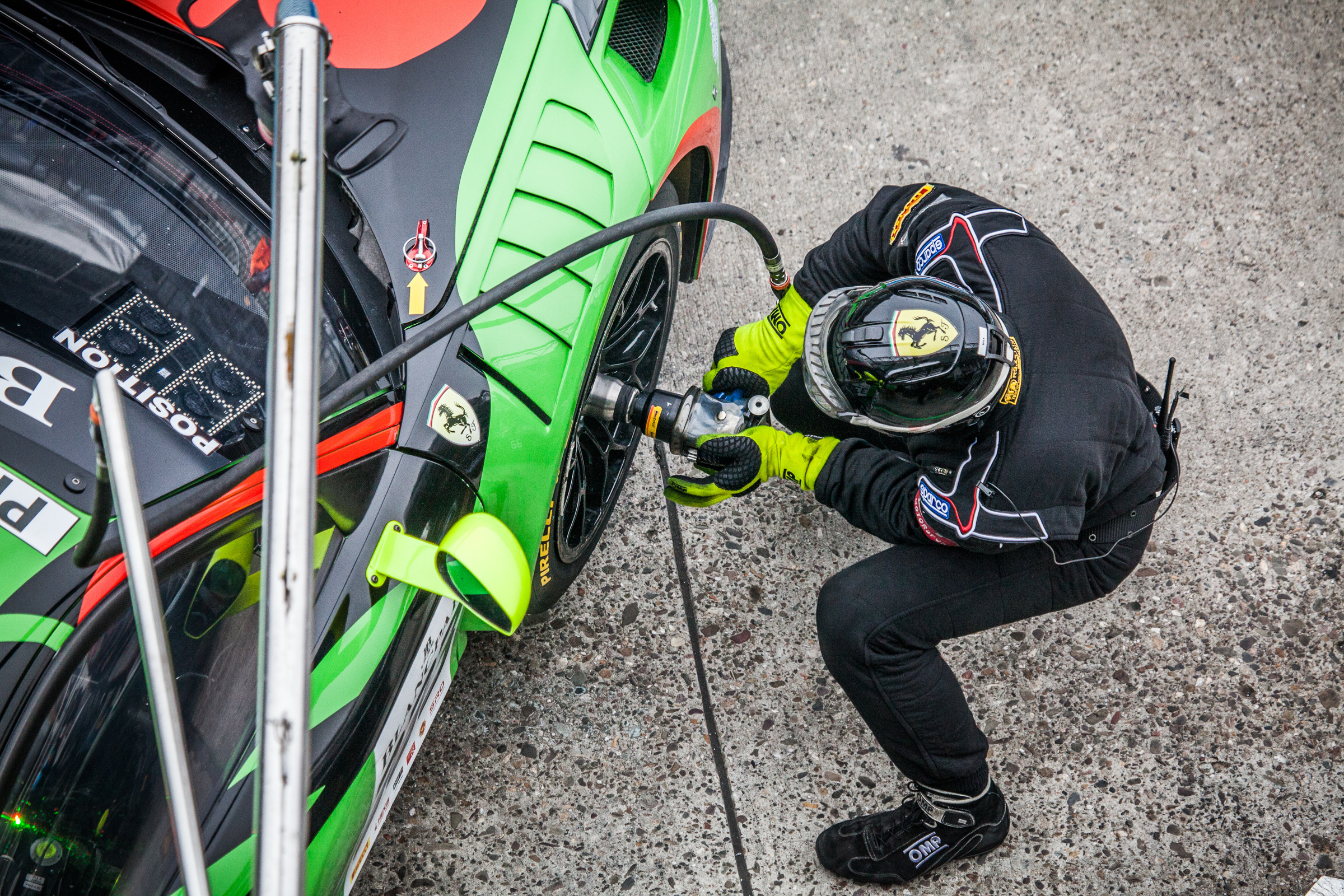 Things couldn't have gone better for Rinaldi Racing this weekend. The team driving the only Ferrari in the Blancpain Sprint Series field in Misano, Italy, celebrated a brilliant double victory. Marco Seefried, Norbert Siedler and the Rinaldi Racing crew almost exclusively dominated the whole weekend with their perfect performance. The team's jubilation knew no limits!
The racing weekend on the Misano World Circuit was dominated by Rinaldi Racing. Norbert Siedler started in pole position in the qualifying race on Saturday evening and defended the lead with effortless ease. The Austrian quickly pulled away from his competitors and thus created impressive proof of Rinaldi Racing's performance. Even in a safety car phase, Siedler and Seefried didn't lose their cool. At the end of the one hour race, the two virtuosos celebrated their first victory of the highly competitive sports car series.
And again on Sunday, rivals saw only the taillights of the luminous-green Rinaldi Ferrari. 39 year-old Marco Seefried also started from pole position and had to give up the lead for a short while to a Lamborghini, but quickly retook it. Together with his team mate, he consistently opened up the gap, enabling Rinaldi Racing to achieve a clear-cut victory with a margin of more than seven seconds on the car in second place.
"Our team spent the whole season giving its all and this success is our reward", said a beaming Michele Rinaldi at the finish on Sunday afternoon. And with a huge smile on his face, Norbert Siedler added "we were in fantastic form this weekend. Even if it looked easy, both races meant a lot of hard work. I would like to thank everyone in the crew, they've definitely earned this fantastic result."
"We've taken a huge step forwards in the course of the season. I'm very proud of all team members and I'm convinced we can follow up from there in the final race", said Marco Seefried. The last weekend of the Blancpain Sprint Series is scheduled for 9th-11th October in Zandvoort in the Netherlands.