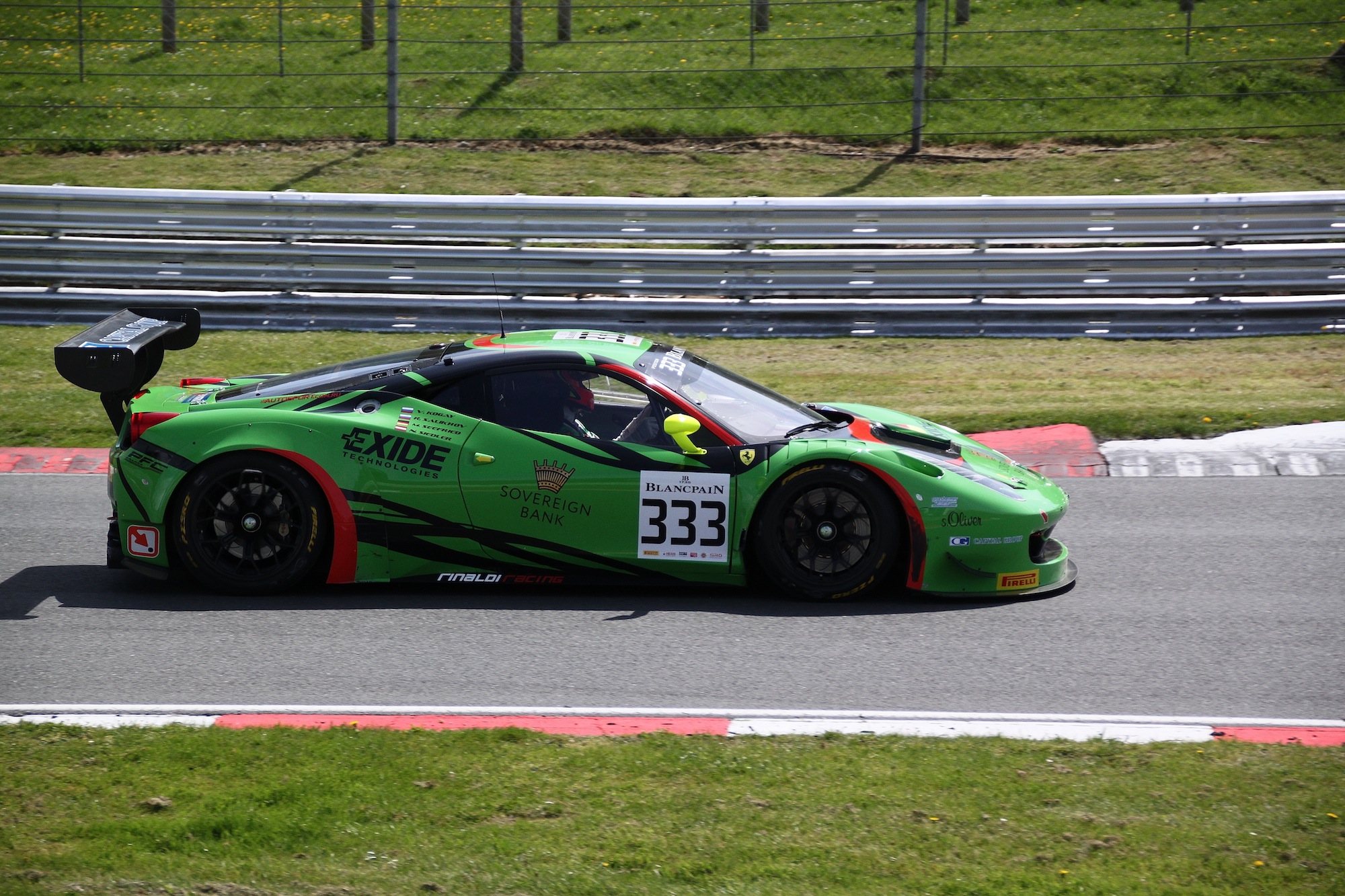 The second racing weekend of the Blancpain Sprint Series in Brands Hatch ended with a great disappointment for Rinaldi Racing. After a tyre damage prevented the driver duo from all chances to claim a top result in the qualifying-race, a technical problem one day later provided even an early retirement from the main race. Despite the setback at the weekend in Great Britain the team around Michele Rinaldi is in an upbeat mood.
"This weekend was everything else than easy for us. It's always bitter to retire early from a race", Michele Rinaldi takes a look back on the weekend. However, the team manager of Rinaldi Racing discovered also some positive things at the weekend of the Blancpain Sprint Series in England. "Our pace was truly top in both races in Brands Hatch. The lap times of Norbert Siedler and Marco Seefried were always on the level of the top-pilots. Without the problems which spoiled our races we would have battled at the top of the field as well."
Especially in the qualifying race on Saturday the two Rinaldi drivers gave prove of the teams great potential. Despite the tyre damage shortly after the start of the race the duo didn't give up and started an impressive hunt through the field with the Ferrari 458 Italia GT3. Dropped back to the end of the grid, at first Norbert Siedler and later on Marco Seefried improved back to 10th position again. "The race performance of our car was unbelievable. The crew has made a terrific job", Siedler praised his team.
Also in the main race on Sunday the team from Mendig in Germany could impressively show which great performance is possible with the 500 HP strong sports car from Maranello. Right at the start of the race Marco Seefried was able to improve two places, covering eighth position. However, unfortunately battling through the field came to an early end for the 39-year-old racing professional. "All of a sudden the car got unstable and I went wide in the first corner of the circuit", explained Seefried. Later on the team discovered a problem with a shock absorber.
In about one month (June, 5th to 7th) the next round of the Blancpain Sprint Series is on the calender for Marco Seefried and Norbert Siedler. The popular GT series moves to Zolder in Belgium. Already from May 23rd to 24th the German team is at the start of the Blancpain Endurance series in Silverstone again. On the prestigious Grand Prix Circuit in England the team wants to tie to the great victory of Norbert Siedler and Rinat Salikhov in Monza a few weeks ago.