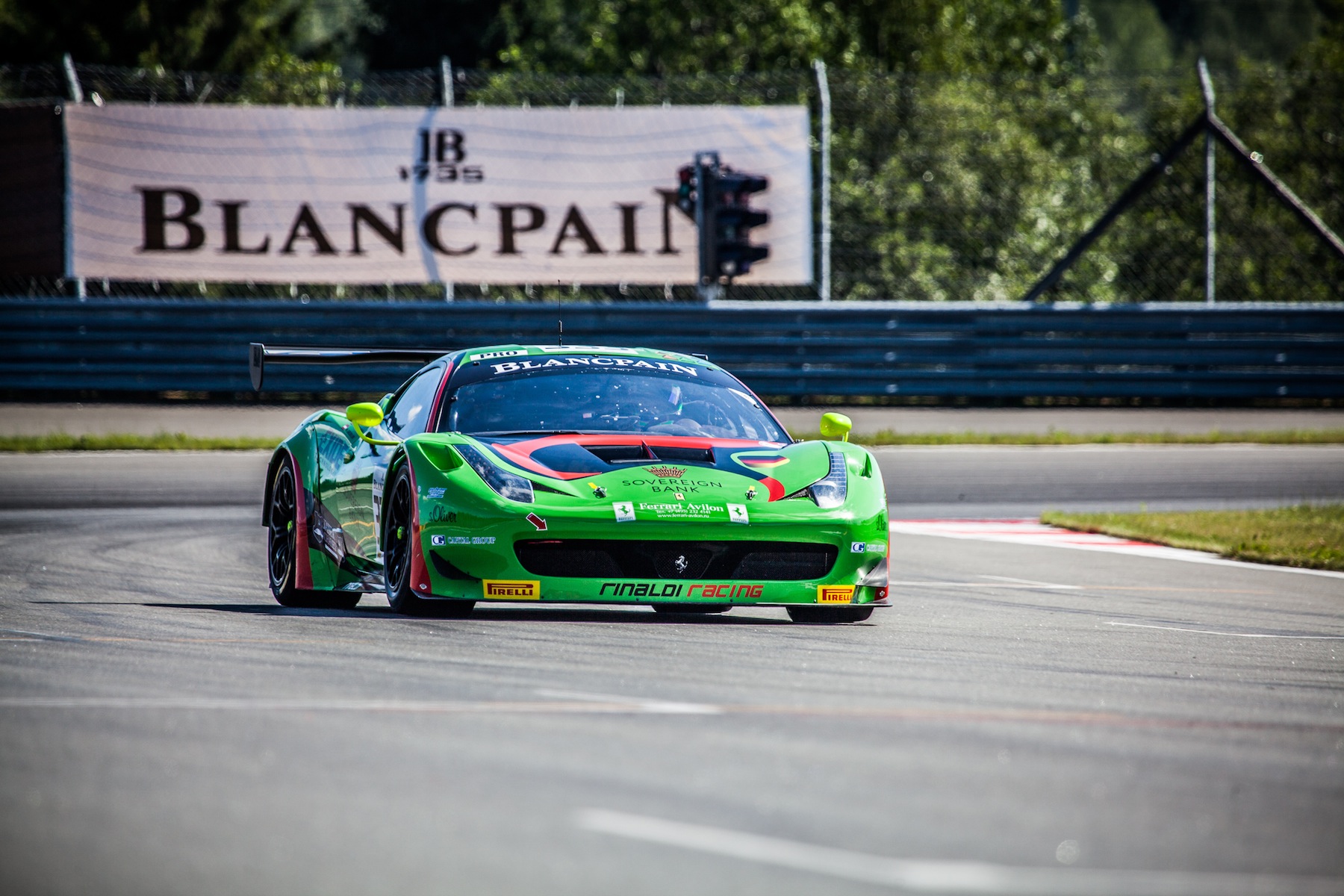 Rinaldi Racing celebrated outstanding podium positions in the fourth round of the Blancpain Sprint Series. After a fiercely competitive race, Marco Seefried and Norbert Siedler in a Ferrari 458 Italia, saw the flag in third place. The Ferrari duo had already taken a strong second place in the qualifying race and claimed a front row start.
"We had a fantastic weekend", said a happy Marco Seefried. "We drove podium positions in both races and collected a lot of points." Starting as second in the front row, Seefried took off well into the one hour sprint race. During a turbulent start, he managed to steer clear of a collision in the leading group and held his position amongst the front cars. "The first lap was quite tough", Marco Seefried reported. "In order to avoid a collision, I had to swerve to the side and leave the track for a split second, but after that shock, we were able to continue our great performance and show our best". Norbert Siedler took the wheel after the mandatory pit stop and defended the third position up to the finish. He couldn't pass the competitor in second position. "It turned out to be very difficult to try and overtake the BMW in front of me. At the end of the straight, I was always a few metres too late to cut him off. But it was still a good weekend for us all. Second in the qualifying race and third in the main race. I'm convinced a win is in sight."
With this spectacular second place in the qualifying race and fastest times in the first free practice sessions, Rinaldi Racing made a clear statement and latched on to powerful performances in previous races. Team boss Michele Rinaldi was very pleased: "The whole team has done a great job. Marco and Norbert drove two good races and took our Ferrari twice to the finish with podium positions. This means a move up in the ratings. We're very happy, especially after our bad luck in the last race. This racing weekend in Moscow was very important for us and our success is all the sweeter."
Beside the successful races in the Blancpain GT Series Rinaldi Racing was also away in the VLN Endurance Championship on the Nürburgring and the German DMV GTC-Series on the Hockenheimring. In the four hours VLN race the German team finished on a strong second rank in the class H and after a tyre damage in the Class SP7 the squad had to settle with seventh place with the Porsche 997 GT3. In the DMV GTC endurance race Rinaldi Racing covered a celebrated third place on the podium of the overall classification.