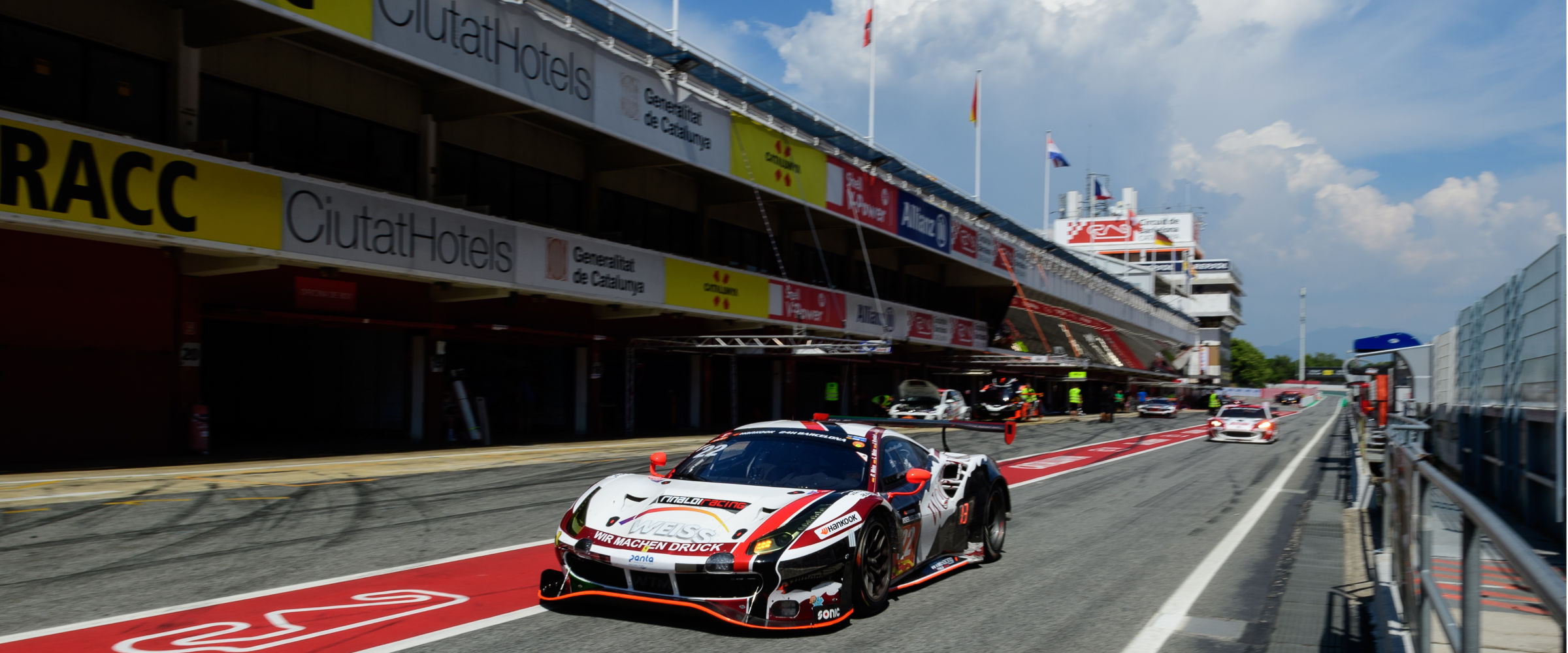 After two retirements on two attempts, WTM Racing has finally shaken off the "Barcelona curse".

At the 24 Hours of Barcelona 2019, the Ferrari 488 Italia #22 "Luigi" finished in 7th position overall. In the "A6-Pro" class, Georg Weiss, Leonard Weiss, Jochen Krumbach and Hendrik Still finished fourth.
Starting the race from the seventh position, the WTM Ferrari, managed by Rinaldi Racing, quickly made up positions in a strong field of 46 cars and settled into the fifth position. In the process, WTM Racing mastered, among other things, a brief rain shower late on Saturday afternoon. Otherwise, the race went off in summery warm conditions and sunshine.
"Luigi" ran through the race without any problems and minor touches on the track with other cars did not harm the Ferrari. However, WTM Racing lost time by changing the brakes a second time. Actually, a brake change is only scheduled once at the 24 Hours of Barcelona, so the unscheduled stop cost valuable minutes. "We have to analyse why we had such high brake wear," says Georg Weiss, team owner and driver in personal union.
With seventh place, WTM Racing ends the 2019 season of the 24h Series powered by Hankook – European Championship with a conciliatory result.
Quotes after the race
Georg Weiss (driver Ferrari 488 GT3 #22): "It's nice to have settled the score with Barcelona. We had a lot of fun; the car was fantastic to drive, the atmosphere in the team was great and everyone worked together perfectly. Only the unscheduled brake change and some minor incidents cost us time. A successful race."
Leonard Weiss (driver Ferrari 488 GT3 #22): "Barcelona is definitely a nice track where I had a lot of fun. I was happy with my performance for the most part, but I could have avoided a few mistakes. The team did a great job again. I think we can be happy with the result given the grid."
Jochen Krumbach (driver Ferrari 488 GT3 #22): "We had good speed and a pleasant car to drive, which always ran smoothly. A few minor incidents on the track set us back a bit, fifth place would otherwise have been a realistic result. But we fought and got a good result. I am satisfied."
Hendrik Still (driver Ferrari 488 GT3 #22): "It was nice to be back in the WTM Racing Ferrari. We made a very good step with our setup and we're really competitive. For sure we would have liked a place on the podium, but the competition was extremely strong this time."