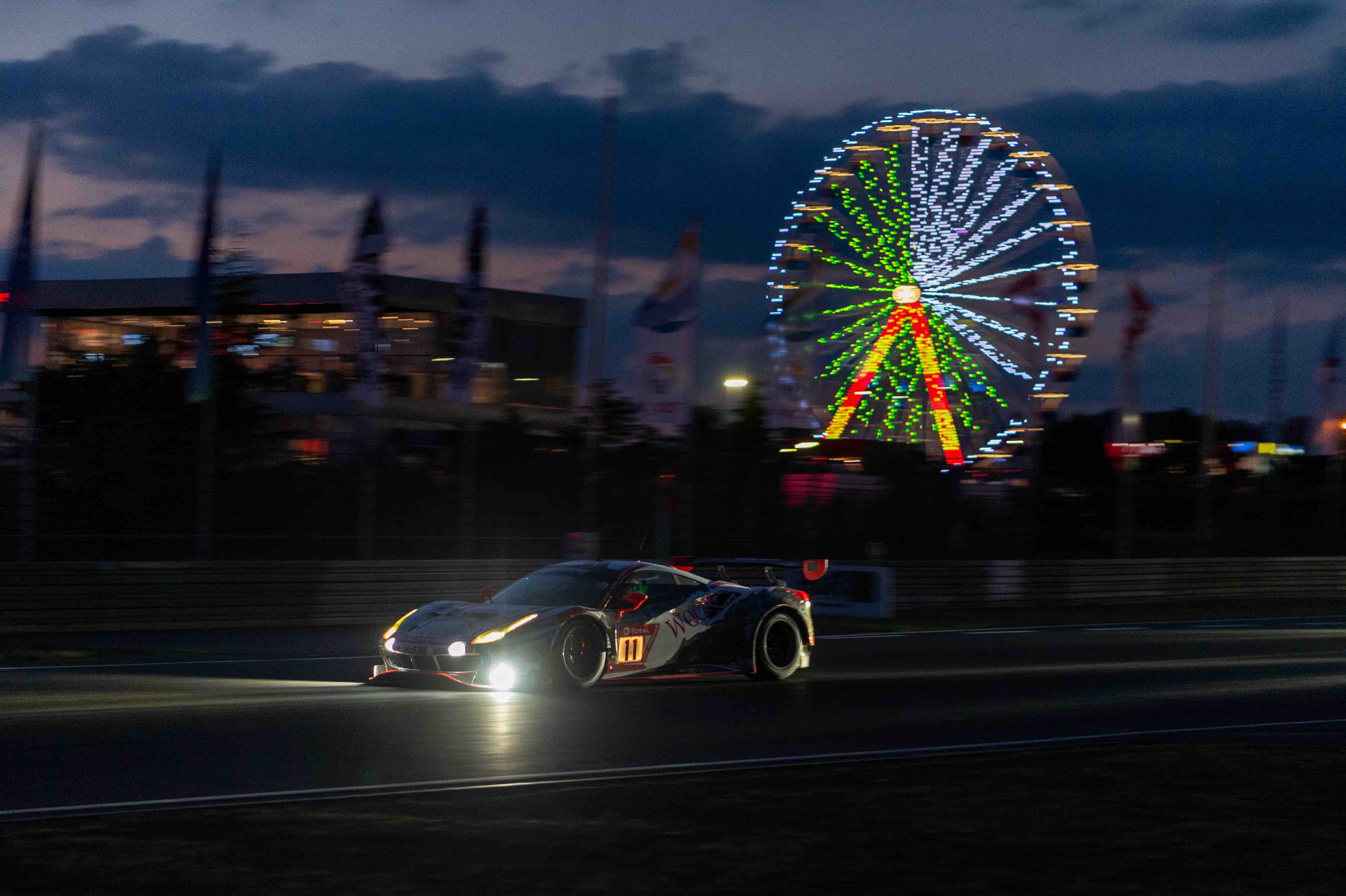 WTM Racing successfully celebrated the 60th birthday of team owner Georg Weiss at the 47th ADAC TOTAL 24h Race at the Nürburgring. The two Ferrari 488 GT3s, supported by Rinaldi Racing, finished third and fifth in the SP9 Pro-Am class and ranked 11th and 13th overall.
With a flawless performance Daniel Keilwitz, Oliver Kainz, Jochen Krumbach, and Alexander Mattschull finished on the podium of their class in the Ferrari with starting number 11 "Luigi". They completed 153 laps on the 25.378 kilometers combination of the Nürburgring Grand Prix circuit and the legendary Nordschleife.
After a technical defect in qualifying, the team replaced the entire wiring harness on Friday evening. Apart from exchanging a tie rod for safety reasons, the team managed to get through the race without any incidents. With consistently fast lap times, the quartet successfully fended off an attack by the Porsches of IronForce by Ring Police in the final phase.
Georg Weiss celebrated his 60th birthday on the sister car with starting number 22 "Guido". For him, it was a dream come true to contest the ADAC TOTAL 24h race together with his son Leonard on a Ferrari on the Nürburgring-Nordschleife. The father-son team was reinforced by Hendrik Still and Ferrari rookie Indy Dontje.
"If I would turn 60 again and there would be a 24-hour race, then I would do everything the same way again," says Georg Weiss. "We also had a great party on the pit roof with great guests."
A spectacular highlight was provided by Hendrik Still, who marked the fastest lap of the race with a 8:18.799 during the night. This was only to be undercut by the Scuderia Cameron Glickenhaus from the SPX class and the second-placed Manthey Porsche.
Quotes after the race
Georg Weiss (driver Ferrari 488 GT3 #22): "The performance of us and Rinaldi Racing was right. We had to change our driver pairing a bit before the race, but it was a great job for everyone. The best thing about this race was to do it together with my son. I really want to take my hat off to him. His performance was phenomenal. That was the best gift he could ever give me."
Leonard Weiss (driver Ferrari 488 GT3 #22): "I think we can be very satisfied with the performance. We can be proud that we got through without any damage. Driving in front of such an audience is very exciting. But it was a little bit of mixed feelings, other starts have already worked better for me."
Hendrik Still (driver Ferrari 488 GT3 #22): "Of all the SP9 cars, driving the second-fastest lap of the race was brilliant! I'm super satisfied with that. But of course, that's not all in a 24h race. Much more important: We managed the car through the race without any scratches. A great job from all the drivers and Rinaldi Racing. Now I'm looking forward to the next races."
Indy Dontje (driver Ferrari 488 GT3 #22): "The whole team worked really well and delivered a great performance. It was really fun to drive the Ferrari over the Nordschleife. This team is characterized by the fact that it is very familiar. That makes it much easier to integrate into the team. Everyone was very helpful. In the end, I got along well with the Ferrari and had a good pace."
Daniel Keilwitz (driver Ferrari 488 GT3 #11): "I'm very happy that we drove through the race without any problems. That was a top job for Rinaldi Racing and my driver colleagues. The result fits and the weekend was a lot of fun. It's also very nice that the sister car got through without any major problems. I wish the WTM guys just as much luck and success in the next race."
Oliver Kainz (driver Ferrari 488 GT3 #11): "I'm happy that we arrived. The car ran flawlessly except for the track rod replacement. The goal was to finish on the podium in the Pro-Am and we achieved that. We're satisfied with that. I think we were able to play off our experience. It brought us to where we are now. Of course, the top 10 in the overall standings would have been even nicer, but we're satisfied with our result."
Jochen Krumbach (driver Ferrari 488 GT3 #11): "After we had technical problems in the qualifying race, we started into this race practically without preparation. We did an excellent job for it. We old hands showed the boys that we didn't forget anything and that they have to make an effort if they want to beat us."
Alexander Mattschull (driver Ferrari 488 GT3 #11): "The 24 hours on the Nürburgring are never easy. Nevertheless, we managed to get through without a single enemy contact. We can be satisfied with our result. I needed some time because I haven't driven so much on the Nordschleife on the car yet, but after a few stints I felt very comfortable in the cockpit."