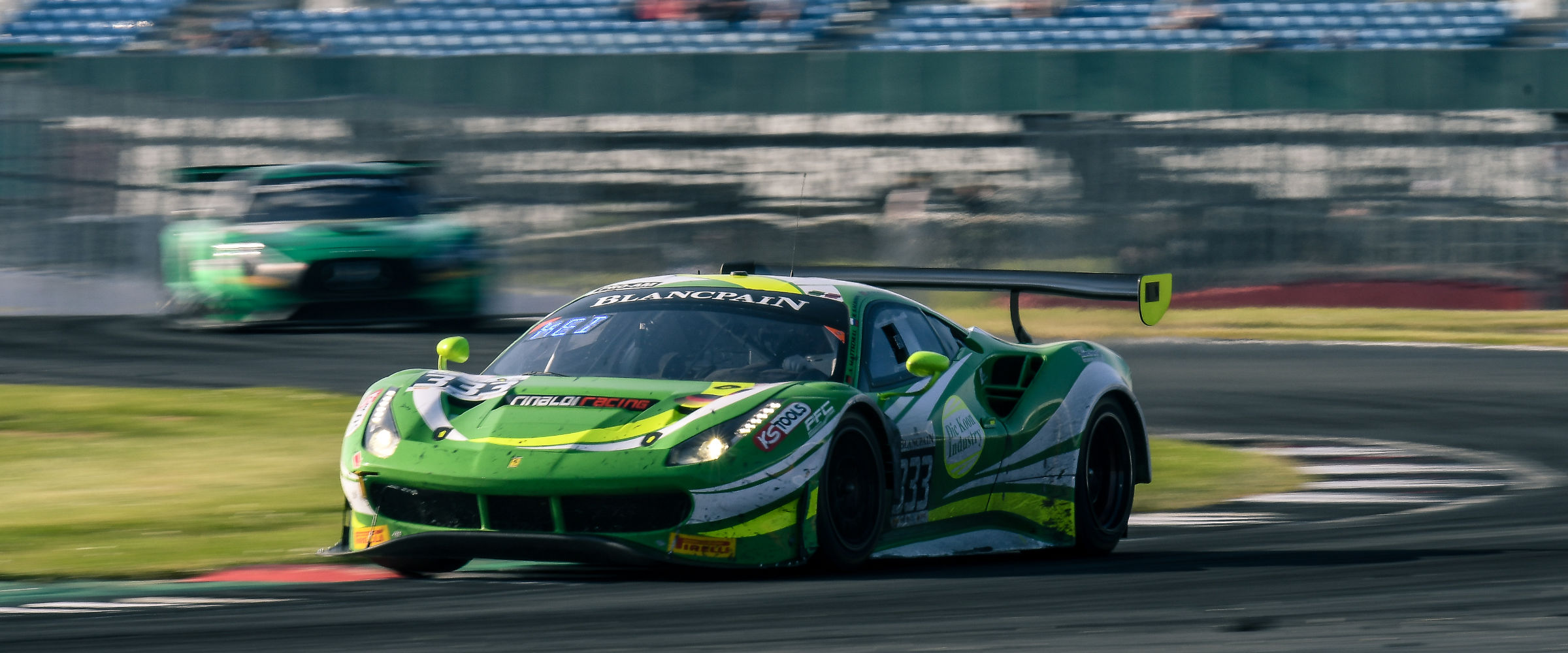 Last weekend, the Rinaldi Racing Team travelled to Silverstone for the second round of the Blancpain Endurance Series.

Again, the #333 started in the ProAm class with Alexander Mattschull, Rinat Salikhov and Daniel Keilwitz. On the sister car with the #488 again in the Am class Pierre Ehret, Rory Penttinen and Rick Yoon.
Qualifying started on Sunday morning in glorious sunny weather. On the Ferrari 488 GT3 with the starting number 333, all drivers convinced with a strong performance. All three drivers set such good times in their qualifying sessions that in the end, the average time was enough for pole in the ProAm class. The trio on #488 scored fourth place in the Am class qualifying. Quite a good result considering it was the first time ever at Silverstone for Rory Penttinen and Rick Yoon.
In summery temperatures, the three-hour race got underway in the afternoon. Rinat Salikhov took the start in the #333, but collided with another car on the first lap, resulting in a spin. A subsequent collision also led to Rinat Salikhov having to pit after a few laps. Due to the collision, a pipe had come loose and the mechanics tried to fix the problem as quickly as possible so that the #333 could resume the race. After a good half hour, Rinat Salikhov resumed the race in tenth place in the ProAm class. Nevertheless, nobody in the team was discouraged; important points were still in it.
Things went much better for #488. Rory Penttinen was able to snatch the lead in the Am class right at the start. He had a neck-and-neck race with the runner-up in the Am class, which he finally won. Leading the class, Rory Penttinen headed for the pits to pass on to Rick Yoon.
At the first scheduled pit stop of the #333, Rinat Salikhov handed over the Ferrari 488 GT3 to Alexander Mattschull. The latter was able to convince with good lap times and worked his way up to ninth place in the ProAm class. Rick Yoon struggled a bit with the track but was able to put in a good performance for himself. With just under an hour to go, he came into the pits in fourth place for the next stop. Pierre Ehret took over the wheel.
A little more than half an hour before the end of the race Daniel Keilwitz changed into the cockpit of the #333. With top lap times, he could still secure eighth place in the ProAm class and thus scored valuable points for the championship. Until the end, Pierre Ehret tried to catch up with the third-placed driver in the Am class. Nevertheless, it was not quite enough and the #488 crossed the finish line in fourth place in the Am class.
Michele Rinaldi: "Not the result we were hoping for. Nevertheless, I am very happy with the drivers' performance. The mechanics also kept a cool head when the #333 came into the pits unscheduled. Now it's back home and we're preparing for the six-hour race at Paul Ricard, which will take place as early as next week."