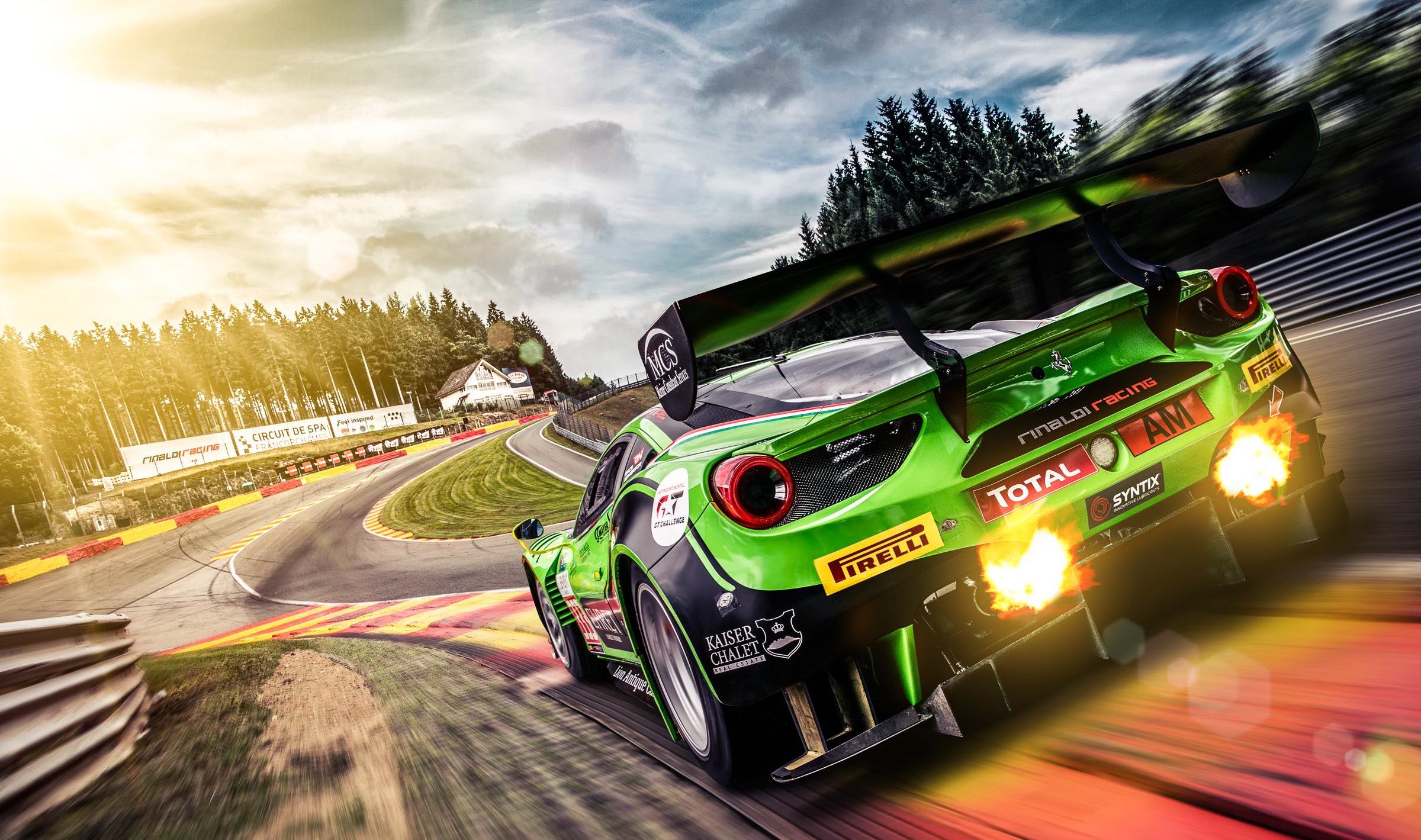 Next week, the highlight event of the year will take place for Rinaldi Racing: the 24 hours of Spa. The team from Mendig will start with two Ferrari 488 GT3 at the 24 hours classic. The seven kilometers long track offers challenging and exciting race action.
The green yellow Ferrari with the starting number 333 will start in the ProAm class. The work behind the steering wheel will be shared by Alexander Mattschull (Germany), Rinat Salikhov (Russia), Matteo Malucelli (Italy), and Norbert Siedler (Austria). The ProAm class will be highly competitive with 23 cars. However, all drivers from Rinaldi Racing have the necessary experience to perform well during the race.
The sister car, the green black Ferrari, with the starting number 488 will participate in the Am class. The Italian racing car will be driven by Pierre Ehret (Germany), Rino Mastronardi (Italy), Patrick van Glabeke (Belgium), and Gabriele Lancieri (Italy). In total seven racing cars will fight for the title in the Am class.
Already on Monday, Rinaldi Racing will travel to Spa to begin with the setup. On Tuesday, the Bronze test will take place, where the amateur drivers could adapt themselves to the track conditions.
On Wednesday, the complete starting field of 66 racing cars will drive from the circuit to the city center of Spa for the Parade. There, all cars and drivers will be presented. A must-see for spectators and fans, because they will get the chance to be close to the cars and also the drivers will be pleased to sign autograph cards and posters.
On Thursday, the actual racing program will start, before on Saturday at 16.30 o'clock the starting signal for the 24 hours will be given.
Michele Rinaldi: "We are ready for the 24h race. The cars are well prepared and the team cannot wait that the action begins. The ProAm and Am class are highly competitive, but I am confident. The driver line-ups on both Ferraris are good; all drivers have enough racing experience on this challenging track. Of course, you need the ounce of luck. But we have a great total package and we are looking forward to this week in Spa."
Also, Rinaldi Racing will start with one Ferrari 458 GT3 in the Blancpain GT Sports Club. Christian Hook (Germany) will be behind the steering wheel. The starting will race on Friday and Saturday.
The sessions of the Blancpain GT Series and the Blancpain GT Sports Club can be followed per live timing and live stream on the respective website.