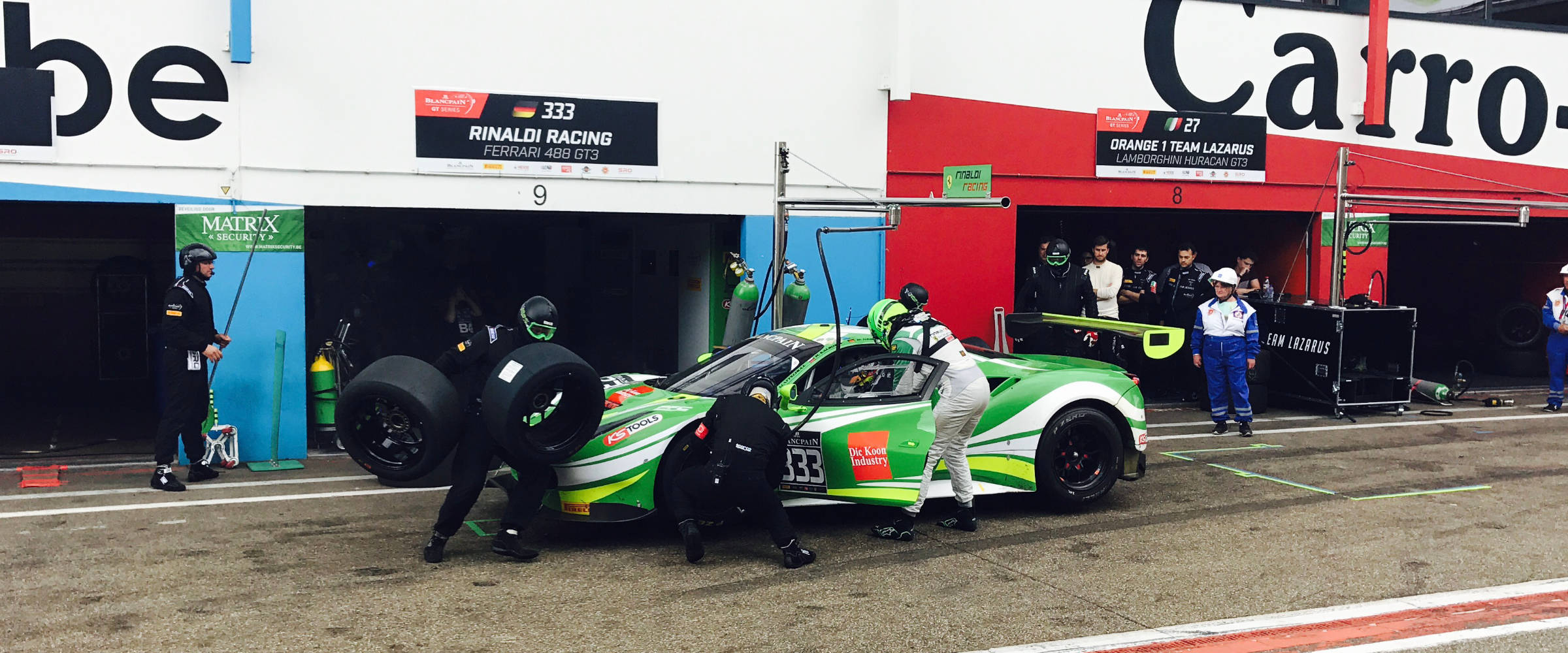 Last weekend, Rinaldi Racing went to Zolder in Belgium for the third round of the Blancpain Sprint Series.

Alexander Mattschull and Daniel Keilwitz started in the ProAm class on the Ferrari 488 GT3 with start number 333.
The free practice sessions took place on Friday. For Alexander Mattschull it was his first time on the track. So he could get used to the track on Friday and reel off some kilometres.
On Saturday morning, Mattschull started the first qualifying session. His lap times were good and he finished first in the ProAm class. In the second qualifying session, it was Daniel Keilwitz's turn. Unfortunately, the session was red-flagged in the last minutes and Keilwitz was unable to improve. In the end, it was only enough for a starting position on the eleventh row.
The start of the qualifying race on Saturday afternoon was taken over by Daniel Keilwitz. Right in the first laps, he was able to make up some positions. Thanks to a very good pit stop by the team, Alexander Mattschull was able to continue the race as the leader of the ProAm class. In the last lap, however, Mattschull was forced off the track by another car, so that he, unfortunately, lost the lead. In the end, it was a good second place in the ProAm class.
On Sunday afternoon, Alexander Mattschull started the main race in the Ferrari 488 GT3. He drove consistent lap times until the pit stop. At the driver change, Daniel Keilwitz took over the wheel of the Italian car. Lying in second place in the class, he was only five seconds behind the class leader. While overtaking, there was a misunderstanding with a competitor, so that Keilwitz spun him off the track. Due to the following drive-through penalty, Keilwitz was able to save the Ferrari in fifth place in the ProAm class.
Michele Rinaldi: "Not the result we had hoped for. The Ferrari performed well, but it wasn't meant to be. The mechanics did a good job on the pit stop. We can make up a lot of time on the competition during the stops. Nevertheless, we continued to score points and still keep the lead in the ProAm class in the Sprint."
The next event for Rinaldi Racing is the Blancpain Endurance Series at Paul Ricard from 23-25 June. Here the team will field two Ferrari 488 GT3s in Endurance and also a Ferrari 458 GT3 in the Blancpain GT Sports Club. At the same time, Rinaldi Racing will take part in the third round of the VLN together with Wochenspiegel Team Monschau.