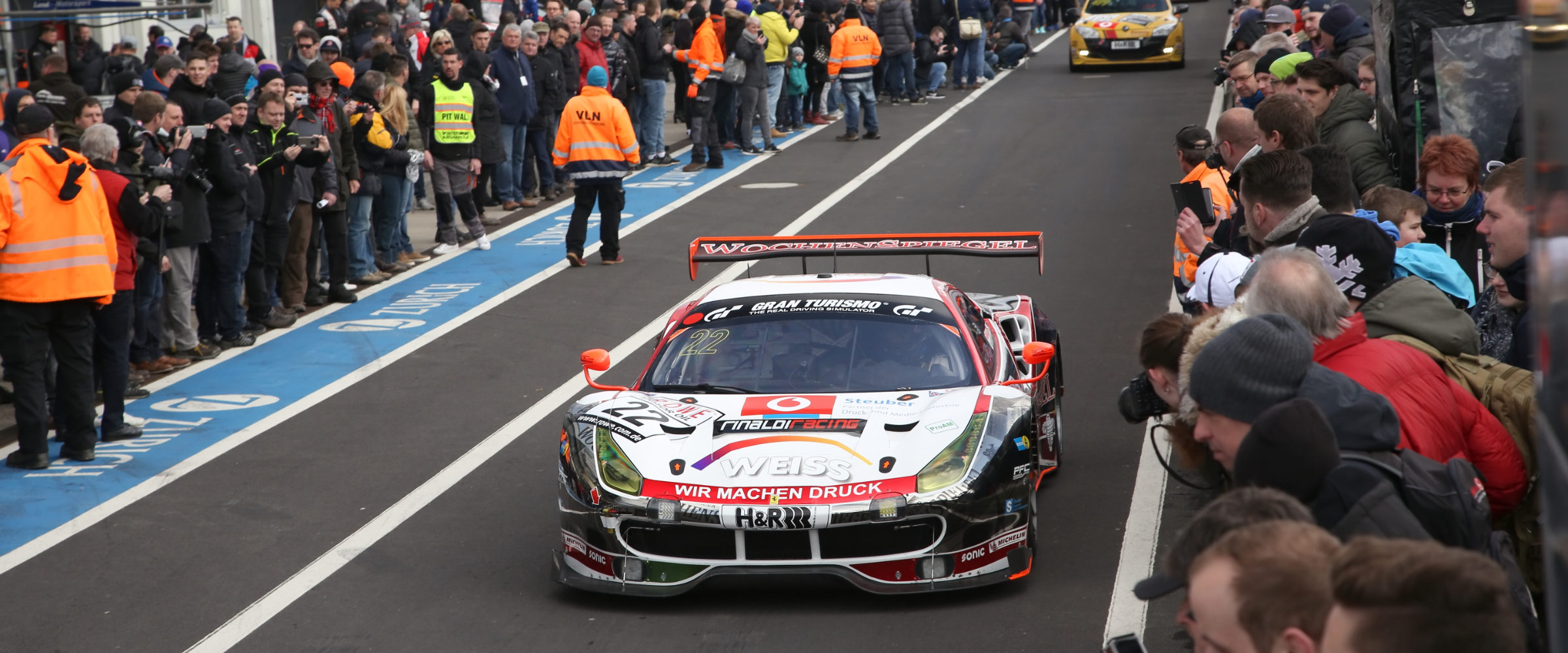 The racing season for the Rinaldi Racing team started at the first VLN round at the Nürburgring-Nordschleife.

Although the weather forecast didn't look so good at first, the VLN organisation decided to hold the event after all. A good decision, because on Saturday the sun was shining on the Nordschleife. The cooperation with the Wochenspiegel Team Monschau will be continued this year and even increased to two Ferrari 488 GT3.
Like last year, Georg Weiss, Oliver Kainz and Jochen Krumbach will start on the number 22. The second Ferrari, number 11, will be driven by Leonard Weiss, Christian Menzel and Nico Menzel. Strong driver pairings with a lot of experience, which also benefits the younger drivers in the team.
On Saturday morning, qualifying had to be postponed by 40 minutes due to fog. But after the sun came out, the 180 participants finally got going. With a top lap time, the number 22 car qualified in second place overall, just 0.4 seconds short of first place. The sister car finished twelfth overall. A very good starting point for both Ferrari 488 GT3s.
The start of the first VLN round was taken by Oliver Kainz in the #22 and Christian Menzel in the #11. Both were able to defend their positions after the start. Oliver Kainz had a neck-and-neck race with his opponents at the front. After only two laps, he was able to pull clear of the third-placed driver and keep the gap to the first-placed driver constant. Christian Menzel overtook one car after the other and after three laps he was already in seventh place. Lying in fifth place, Christian Menzel came in for a pit stop on the seventh lap and handed it over to Leonard Weiss. In the meantime, the Wochenspiegel Ferrari #22 was able to position itself in the first place. On the eighth lap, Oliver Kainz came in for his regular pit stop and handed it over to Jochen Krumbach. Due to many accidents on the track and the resulting Code 60 phases, the #11 found itself in 23rd place. The #22 came back into the race in fifth place. At the second pit stop, Leonard Weiss handed over the #11 to Nico Menzel. Jochen Krumbach stayed in the #22 for a double stint in the Ferrari. In the last 22 minutes of the 4-hour race another car collided with the #22 Ferrari and damaged a tyre. Jochen Krumbach had to struggle to get to the pits with a puncture. Thus a good result was lost. At the stop, they immediately changed to Georg Weiss. In the end, car number 11 finished 19th and car number 22 25th.
Michele Rinaldi: "A very mixed race. Both Ferraris ran wonderfully and the speed was very good. The performance of the drivers was also good. Unfortunately, the puncture threw us far back. Now we'll put the race behind us and concentrate on the second VLN race in a fortnight."