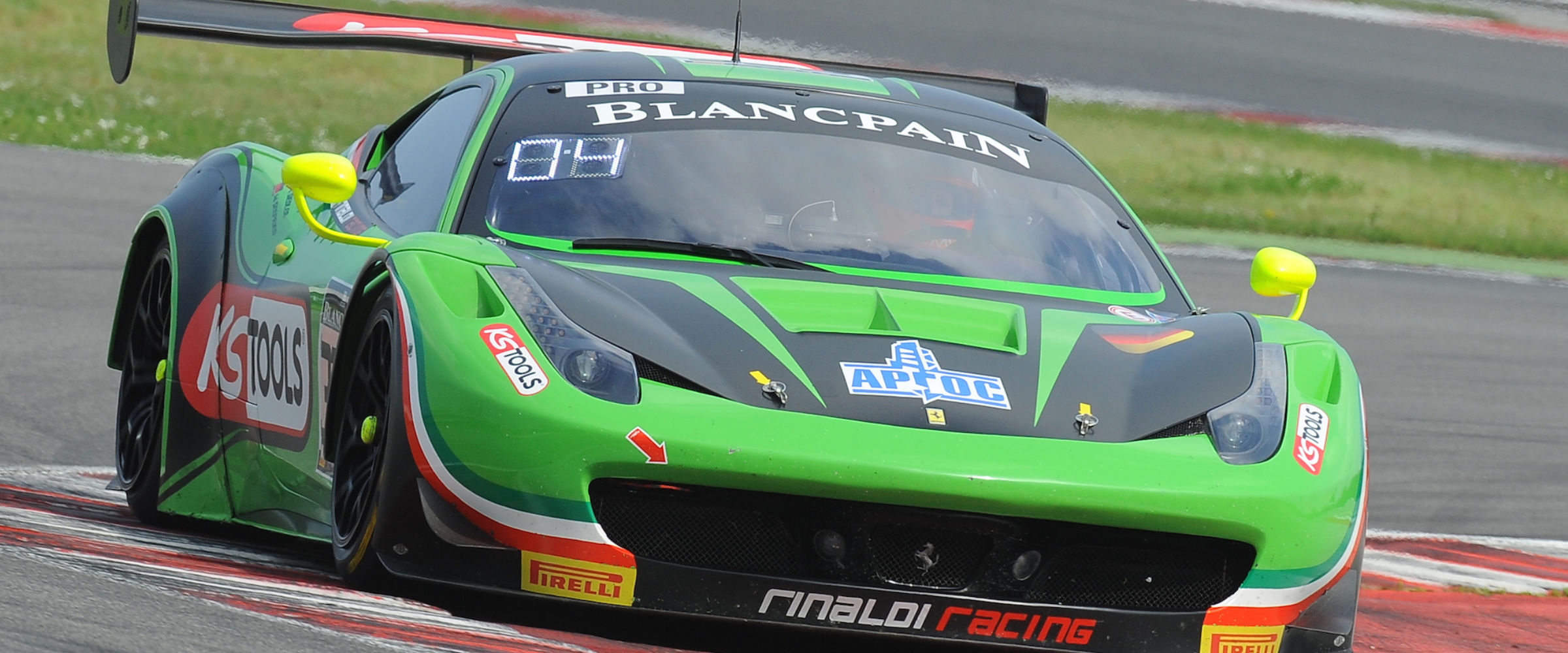 Rinaldi Racing underlined its ambitions for the 2016 season with a strong performance at the Blancpain GT Series season opener in Misano.

At the opening round of the Blancpain Sprint Series, the team took third place on the grid and put in a strong performance in both races. In both the qualifying race and the main race, the team took sixth place and thus important points for the championship.
After a third place in qualifying for Marco Seefried and Norbert Siedler, an eventful qualifying race followed on Saturday evening. Right from the start, Siedler engaged in an enthralling battle for the podium places with the competition. At the halfway point of the race, the Austrian handed over the Ferrari to Marco Seefried in third place. However, because "Full Course Yellow" was shown immediately after the driver change due to an accident on the track, the duo lost a lot of time and dropped back to sixth place. Teams that had not stopped at that point thus gained an advantage and got past the Rinaldi Ferrari. "Unfortunately, we were a bit unlucky. A podium finish was within our grasp as our car was working perfectly," said Norbert Siedler.
In the main race, which was held on Sunday afternoon, Marco Seefried and Norbert Siedler continued their performance from the previous day and repeated their sixth place. For team boss Michele Rinaldi reason to draw a positive conclusion: "We can be satisfied with the start in Misano. With a third place on the grid among 39 cars, we proved our potential. We would have been fast enough for the podium, but the two sixth places are also a great success for the team in view of the enormous performance density," Rinaldi summed up.
Christian Hook and Steve Parrow, who were competing in the Blancpain Sprint Series for the first time, also had an impressive start. In the AM Cup, the duo secured class victory in the first race. Despite difficult conditions, the two drivers in the Ferrari 458 Italia GT3 put in a convincing performance and deservedly took first place in the classification for gentlemen drivers.
After the start of the Blancpain Sprint Series season in Misano, the next race in Italy will soon be waiting for the Rinaldi Racing team. From 23 to 24 April, the team from Mendig will compete in the first round of the Blancpain Endurance Series on the high-speed circuit of Monza.