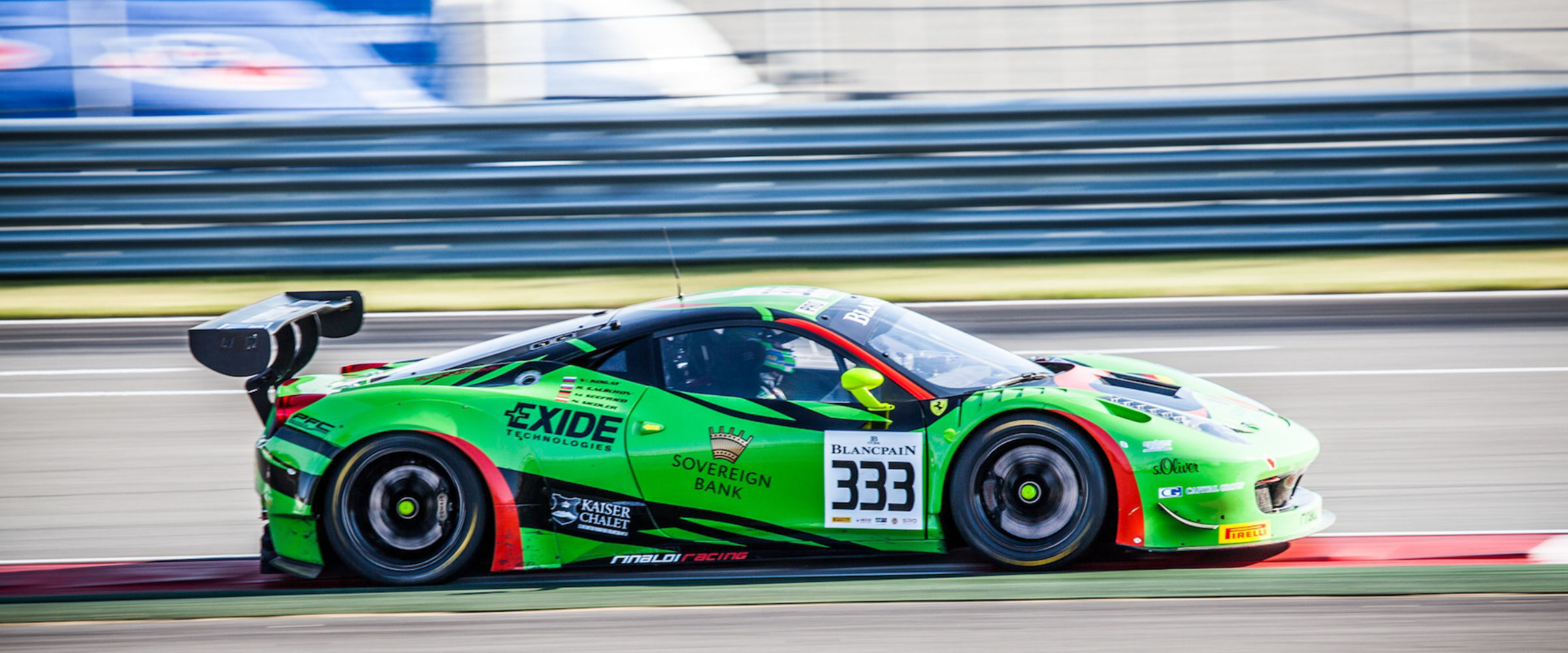 Rinaldi Racing celebrated outstanding podium results at round four of the Blancpain Sprint Series in Russia.

After a hard-fought race, Marco Seefried and Norbert Siedler crossed the finish line in third place in the green Ferrari 458 Italia. The Ferrari duo already shone in the qualifying race with a strong second place, qualifying on the front row of the grid.
"It was a great weekend for us," Marco Seefried was pleased. "In both races, we were able to finish on the podium and score some decent points." Starting from the second position, Seefried made a good start in the one-hour sprint race. Right at the beginning of the turbulent start phase, the Ferrari driver was able to avoid a collision with a wide turn and defended his position in the leading field. "The first lap was quite difficult," Marco Seefried reported. "I had to take evasive action and thus briefly left the track. After this moment of shock, however, we were able to fully exploit our great performance." Norbert Siedler took over the wheel at the mandatory pit stop and defended the third position all the way to the finish. He was unable to pass his competitor in the second position. "It proved to be very difficult to overtake the BMW in front of me. At the end of the straights, I was always just a few meters too late to outbrake him. But it was still a good weekend for us. Second in the qualifying race and third in the main race. I think a win is certainly possible in the near future."
With a great second place in the qualifying race and best times in the first free practice session, Rinaldi Racing already made a statement in the run-up to the race, building on their strong performances from the previous rounds. Team boss Michele Rinaldi was happy: "Our whole team did a great job. Marco and Norbert drove two good races and brought our Ferrari home with podium finishes in both races. We are making a step forward in the standings with this. We are very satisfied, especially after the bad luck in the last race. The race weekend in Russia was very close to our hearts, so we are all the happier about our successes."
In addition to its successful campaign in the Blancpain GT Series, Rinaldi Racing also competed last weekend in the VLN Endurance Championship on the Nürburgring-Nordschleife and in the DMV GTC Series at the Hockenheimring. In the four-hour fourth round of the VLN, the team from Mendig finished a strong second in Class H and seventh due to a puncture in Class SP7 with their Porsche 997 GT3. Rinaldi Racing finished the Endurance round of the DMV GTC in third place overall and rejoiced on the podium.