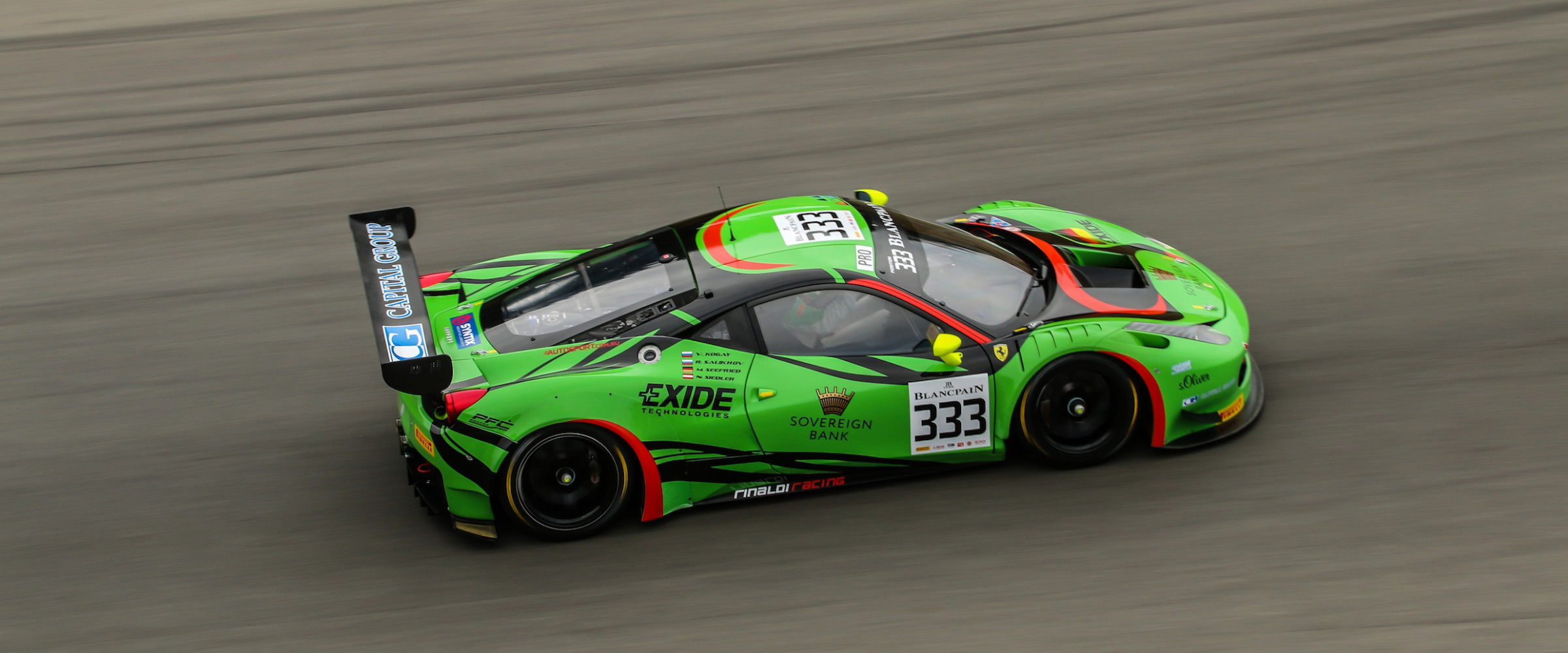 At the third race weekend of the Blancpain Sprint Series in Zolder, Belgium, Rinaldi Racing shone with a commanding performance.

Norbert Siedler and Marco Seefried set the fastest time in Friday practice and celebrated an outstanding podium success with second place in the qualifying race. In the main race on Sunday, a collision in the starting phase that was not their fault ruined all chances of a top result. Despite the setback, the team from Mendig looks back on a positive weekend.
"Up until the main race on Sunday, the weekend went great for us," Norbert Siedler looked back. "On Friday, we were the fastest in practice. On Saturday, we managed to finish second in the qualifying race and were on the podium. The basics for the main race were optimal. But then Marco had bad luck at the start of the race." Only a few meters after the starting lights, the Ferrari 458 Italia was hit on the rear by an overzealous competitor. Marco Seefried then spun and landed in the gravel. "That was very bitter," Seefried reported disappointedly. "We were doing so well and I couldn't even finish a lap. I got hit and had no chance to finish the race after that."
All weekend, Rinaldi Racing impressed their rivals with a strong performance. In the two free practice sessions on Friday, Marco Seefried and Norbert Siedler put a thick exclamation mark on the results by finishing first and second. In the qualifying race on Saturday, the two sports car drivers turned their performance into a podium finish. Thanks to a commanding team performance at the pit stop, the duo moved up to second place, securing a front-row grid spot for the main race. "Our first Blancpain Sprint Series podium this season. It was a fantastic result for us," Marco Seefried was delighted with the success.
"Our team and our drivers are perfectly attuned to each other," Michele Rinaldi summed up and went on to explain: "Marco and Norbert get on superbly with our Ferrari 458 Italia and get everything out of it even on tracks that are less conducive to the car. The team and I are very happy with the current developments. We have shown again here in Belgium what kind of performance we are capable of. Thanks to my whole crew."
The Rinaldi Racing team is already looking ahead to the next round of the Blancpain Endurance Series. From 19 to 20 June, the popular sports car series will make a guest appearance at the Circuit Paul Ricard near the southern French town of Le Castellet. Team boss Michele Rinaldi wants to stay on course for success at the third race of the endurance championship: "We're taking all the positive momentum with us to France and, of course, we want to be among the front runners there as well."